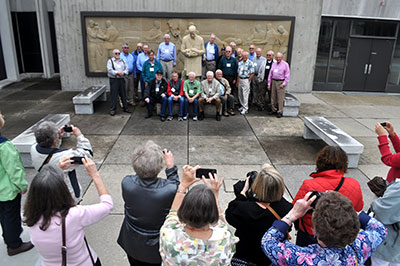 Dear Alumni,
Whether you're celebrating a five-year or fifty-year class reunion, the College of Veterinary Medicine can help you plan and organize your special event.
The first step for classes is to determine a date for the reunion. Once a date is determined, the college can assist you in several ways, listed below:
Class Mailing Labels
We can provide you with a set of mailing labels for your class. Typically, a set of labels can be generated within seven to 10 days of contacting us.
Communications
We can assist you in preparing a class reunion postcard. Although we're happy to mail the postcards or letters for you, we'll need you to provide postage costs.
Web Page
We can provide a temporary web page for your class that they may visit to see the reunion schedule and RSVP for the event. The RSVP would be a link to the e-mail address of the class member who is organizing the reunion.
Lodging
For a list of area hotels, 
click here
.
Please note that room availability is at a premium during Homecoming, so plan early if you wish to reserve a block of rooms.
Tours
We can schedule a tour of the college facilities during your visit. Whenever possible, we do try to have student tour guides so you can catch up on the everyday school life of today's veterinary students.
Football Weekends
For classes that wish to host a reunion on a football weekend other than Homecoming, you will need to obtain a block of seats from the ISU Athletics Department. For Homecoming Weekend, the VMAA obtains a block of tickets for alumni and guests. 
Speakers
We can assist you in lining up speakers for your reunion, either a favorite instructor or the dean of the college. We'll need advance notice to ensure the person you request is available on that day and time. We can also provide educational speakers, if available, for topics that may be of interest to the class.
Other
If there is a particular request or service that you'd like, or if you'd like to begin planning your reunion, please 
contact us
.
We look forward to working with you!