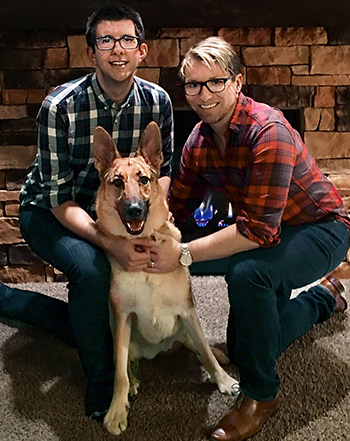 Andy Marnell was out of town when he got the phone call. While his 10-month-old German Shephard puppy was being boarded at a local kennel, he had been injured.
The kennel said Quil was OK and it wasn't anything to be too concerned about. "When I got back in town, Quil looked like he had a bad puncture wound," Marnell said. "He wasn't in terrible shape, but you could tell he was favoring that leg."
Marnell worried about the long-term effects on the young dog and eventually traveled from Des Moines to the College of Veterinary Medicine for emergency treatment. It turns out what Marnell thought was just a puncture wound, had instead tore Quil's Achilles' tendon. Quil was evaluated over the next month at the Hixson-Lied Small Animal Hospital and underwent orthopedic surgery.
"In many ways, I believe the recovery was worse than the actual injury," Marnell said, "at least from my perspective. For two months, I had a very sore, but very energetic puppy who was stuck in a crate all summer. It was hard on both of us.
"But two years later you really can't tell he had the surgery. He has surprised me every step of the way." Marnell was so pleased with the level of care he received at the Hixson-Lied Small Animal Hospital that he decided to help other animals that may face a similar road to recovery. "I wanted to do something impactful," he said. "Talking with the ISU Foundation I determined that I could make that impact most in the Canine Rehabilitation Center."
Thanks to a $25,000 gift from Marnell and his partner that was matched by Marnell's employer, Wells Fargo, the facility will now be known as the Marnell-Russell Canine Rehabilitation Center. Marnell says he was motivated to donate to the College of Veterinary Medicine because of the excellent care and interaction he had during Quil's time at the small animal hospital. The Wells Fargo employee had just moved to the Des Moines area when his dog suffered his injury.
"Before I took Quil to Iowa State, my perception of the level of care was excellent," he said. "And it was an awesome experience. From the moment, they welcomed us into the exam room that very first day to the day we left for good, I was consistently impressed by all of the residents and clinicians we had a chance to work with.
"It was obvious to me that they all cared about Quil and the level of care he would be receiving." That level of care and Quil's ultimate recovery were just a few of the reasons why Marnell wanted to give back. "I see where Quil is today, a happy, healthy, normal dog," he said. "If this gift provides the same opportunity to other animals it's a huge benefit in my book."