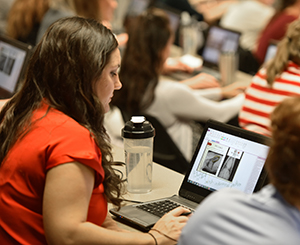 DVM Scholarships
Student debt is an increasingly troubling issue for veterinary colleges across the country, including Iowa State University.
The issue is so critical that Dr. Lisa K. Nolan, the Dr. Stephen G. Juelsgaard Dean of Veterinary Medicine, charged a committee in the college to look at ways student debt at Iowa State could be reduced in the coming years.
The committee, which consisted of students, faculty, staff and alumni, came up with a variety of suggestions, including continuing the college's strong efforts in recent years of adding much-needed scholarship dollars.
"Our recent private support efforts have helped increase the amount of scholarships the college awards annually," Nolan said. "But that figure will need to increase significantly over the coming years if we are going to make a real impact on the rising levels of debt our students accumulate."
During the recent Moving Students Forward initiative, the College of Veterinary Medicine met its $10 million fundraising goal for student support, including scholarships. These scholarships enable the college to annually award more than $725,000 in scholarships to more than half of the student body.
Student support ensures veterinary students will have access to a plethora of knowledge, organizations and activities that will help them excel in the classroom, while building the skills, character and confidence they will utilize for years to come.
"Our students are dedicated to becoming the next generation of veterinarians," Nolan said, "but it takes support from our alumni and friends to make that possible."