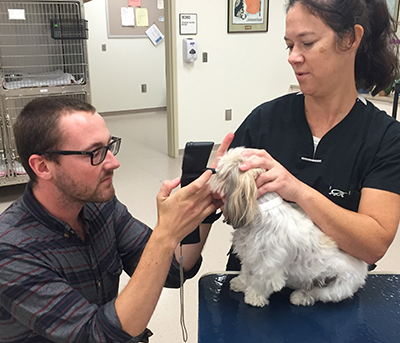 Fall semester of my third year was one of the most fulfilling, as well as busy, semesters that I have had so far at Iowa State University's College of Veterinary Medicine. Following the infamously challenging second year and my summer as a veterinary scholar doing Ophthalmology research here at Iowa State, this past semester integrated all the components of my education that I've acquired, thus far.  However, the pre-eminent experience this semester was embarking on the journey we fondly call junior surgery.  Though many may think we just perform surgery, our program offers so much more.
Throughout the semester I was able to enhance my clinical skills in surgery, anesthesia, handling/behavior, and primary care. We partnered with animal shelters throughout Iowa and provided canine/feline ovariohysterectomy and orchiectomy (spay and neuter) services for these shelter populations. Furthermore, we created and implemented preventative care programs for each patient and performed all examinations and diagnostic work-ups on patients during their five-day stay. By the end of this fourteen-week course we had provided services for over 340 cats and dogs to increase their likelihood of finding a forever home which truly provided the greatest feeling of all.
The spring marks my last semester before entering clinical rotations. I anticipate another challenging, but rewarding, semester of junior surgery, community outreach, electives, and core courses. However, before I get too ahead of myself – I'm ready to hit the road back home to Connecticut to relax with family and friends for a few deserved weeks of vacation.