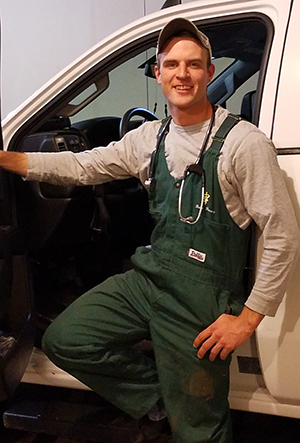 Hey there again! Fourth year has been a whirlwind since my last entry. To start off, I have just completed the Field Services rotation. As a large animal-focused student, this rotation was a lot of fun, and it will be very similar to what I will be doing after I graduate. The Field Services rotation is an ambulatory service for food animals, and we spent the two weeks doing treatments on animals around central Iowa, as well as doing all of the treatments as needed at the Iowa State Dairy farm. This rotation was a nice change of pace, especially after completing many small animal rotations during the mid-summer and early fall.
During this rotation, I had to take a day off however, and make the short trip to Des Moines to sit for my national board exam test. It was a long process to study for, and much of the summer and early fall was spent utilizing the prep material, as well as refreshing my memory on topics by going over old notes. I was very glad that the exam was over, and now I just have to keep my fingers crossed until January when the results are released! The national board examination is used by state licensing boards as part of their licensure procedure for veterinarians, and in turn, I need to be licensed to practice veterinary medicine.
My fall will now begin to slow down, as I have some time off lined up for Christmas holidays. I plan to relax, spend time in the outdoors, visit with family, as well as job shadow around the home town clinics. Knowing that I no longer have to study for the board exam while on break will definitely be an added bonus!
Since my last entry the Class of 2017 has also passed the halfway point in our rotational year, and with less than 6 months to go, we will all start looking for jobs and housing in order to take the first step towards using the degree that we've worked for so long to achieve. It's hard to believe that our 4th year is going by so fast, and at the same time I'm excited and nervous to be done and to be able to practice veterinary medicine on a daily basis. Just like every step along the way thus far, it will be an interesting adventure, and one that I'm really looking to!
Until next time,
Dan Breuer