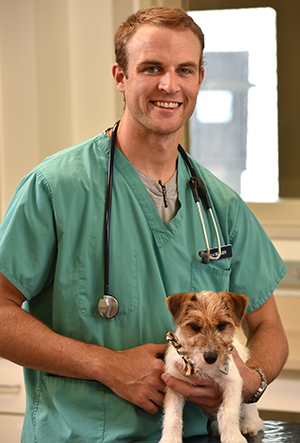 Hey everyone! I'm Dan Breuer, a fourth-year student from Glen Haven, Wisconsin. I obtained my bachelor's degree in biology from the University of Wisconsin-LaCrosse in 2013. I am half-way through my fourth-year at the Iowa State College of Veterinary Medicine. My focus is primarily dairy production medicine, with a general focus on mixed animal medicine. That's a little about me and my background, so now I'll give you a little sneak peek into what is going on. Every student has a different experience, especially during the clinical fourth year, so please realize that I may have a much different perspective at this point in my education than many of my other peers do.
As I write this, I am on a flight from Des Moines to Charlotte, NC. It's the start of a three-day break from the hospital rotations. Every two weeks we "rotate" through a new hospital service. Right now I'm in the Intensive Care Unit rotation. The reason for my brief vacation from the hustle and bustle of rotations is the annual American Association of Bovine Practitioners (AABP) convention. This is a meeting of the national organization of cattle and small ruminant veterinarians. For me, the AABP conference will be a great opportunity to meet with veterinarians that have similar interests, and will also afford me the opportunity to introduce myself to potential future employers.
I'm temporarily leaving behind my five ICU rotation mates, who I have been with for 3 weeks on one of the more rigorous rotations that you will take in your fourth-year curriculum at Iowa State. The past three-quarters of a month has involved early mornings and late nights, filled with intense cases and continual client interactions. The emergency service is one of a kind in that you may be very slow for hours at a time, only to be bombarded with several emergencies at once. Having already completed a number of small animal rotations since May, I must say that ICU has been the most challenging so far. This is one of the many rotations required for graduation, and although some dread the thought of spending a month at the mercy of the hospital schedule, you have the opportunity to be very proactive and involved in every case that comes through the door. The level of detail and continual care that each patient requires is trying at times, but overall this rotation has been very fulfilling.
When I return from Charlotte and complete my ICU rotation, I will receive a bit of a respite from the daily grind of the hospital setting. I will be heading to Illinois for a dairy and mixed-animal experience for one week, followed by a two-week trip to Idaho to hone my palpation skills on large dairies. Based on what career track that you choose; small, mixed, large/food animal, or equine, you are able to do a set number of rotations that allow you to be somewhere other than Ames, and experience a more true-to-life experience with a private practitioner. I chose to devote most of my preceptor time with general practitioners that are mostly in mixed-animal practices in the central Midwest, with trips to North Dakota and Idaho being the exception.
Despite being very busy with rotations, my job search, and studying for national boards, I take time to do things that I enjoy outside of veterinary medicine. This fall I will focus a lot of time on hunting, as well as keeping track of the both the ISU Cyclones and Wisconsin Badgers sports teams, and always trying to spend as much time as possible with friends and family.
My biggest piece of advice for anyone already in vet school, or those applying is this: Always make time to do what you enjoy that doesn't involve veterinary medicine. Everyone needs a break from the books once in a while, and you will always have time for your hobbies if you consciously make time for them.
Dan Breuer