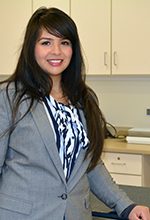 Greetings everyone!
My name is Jacky Peraza. I am a first-year veterinary student at Iowa State University. I have just completed my first semester.
I was born and raised in Los Angeles, Calif. My family lives minutes away from downtown Los Angeles. I am the first member of my immediate family to attend college and graduate school. I received my bachelor's degree from the University of California, Merced, in molecular and cellular biology and a minor in psychology in 2013. After graduating from UC-Merced, I worked at the Animal Specialty and Emergency Center in West Los Angeles as a radiology technician, where I was exposed to various specialties within the veterinary profession, including oncology, radiology, cardiology, internal medicine, surgery and emergency/ICU departments.
My main interest is small animal medicine. I am interested in pursuing board certification in either ophthalmology, neurology or sports medicine, and hoping to own my own practice someday.
My first semester of veterinary school was a whirlwind of emotions, as well as a learning curve. It was tough to say goodbye to my family after the completion of orientation week, and yet again, I had to learn how to navigate in a different town, let alone, in a different state. The first semester contains 17 semester units, comprised of core classes such as anatomy (for dogs and cats), histology/physiology, case study, radiology, nutrition, clinical skills, and veterinarian in society. Earlier in the semester, I realized that the study tactics that I used during my undergraduate years had to be tweaked for every class in vet school, in order to survive the semester. Flash cards and drawing diagrams were useful for anatomy, while study guides helped me study for the histology/physiology class.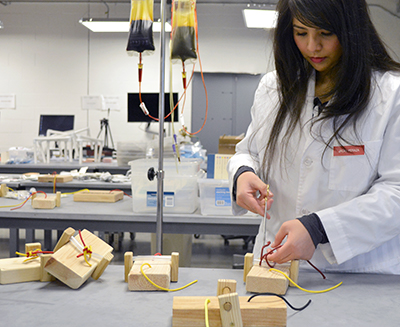 One of my favorite classes during my first semester was the Clinical Foundations class. In this class, students are placed in groups and each group works with a dog from the local animal shelter to aid the students in developing skills for physical examination and auscultation. This was a great way to combine all of the knowledge I gathered from the anatomy and physiology courses, and utilize them in a real-life setting. In addition, every group member has the opportunity to practice blood draws and learn how to read/interpret packed cell volume (PCV) and total protein from the blood sample. As first-year students, we also learned how to do three types of surgical knot tying, which included one- and two-handed ties, as well as an instrument-assisted Miller's knot tie.
I'm learning a lot, and enjoying the adventure!