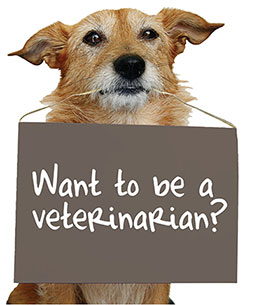 Students contemplating careers in veterinary medicine should prepare in both high school and college with a solid foundation in the biological and physical sciences. They should have a general knowledge in the arts, social sciences, humanities and communications. Students should also be motivated by a sincere concern for animal and human populations, a desire to serve the public, and a genuine interest in the medical field.
"Pre-veterinary medicine" is not a major but a preprofessional track that can be chosen within a major. Pre-veterinary medical students may pursue any undergraduate major of their choosing. The College of Veterinary Medicine seeks students with diverse backgrounds and encourages them to enroll in a major which meets their interests and goals. Although science majors such as animal science, biology, zoology, animal ecology, biochemistry and microbiology are most common, admitted veterinary medicine students have also had degrees in business, fine arts, music, English, engineering and psychology. The required pre-professional courses can be obtained through the curricula of a variety of fields of study.
Pre-veterinary students are strongly encouraged to complete a Bachelor's degree before enrolling in the College of Veterinary Medicine, however, a Bachelor's degree is not required for admissions. Applicants must only complete the specified prerequisite courses at a regionally accredited college or university to fulfill the academic requirements.
Learn about Careers in Veterinary Medicine
American Association of Veterinary Medical Colleges (AAVMC)-Careers
American Veterinary Medical Association (AVMA)-Careers
Bureau of Labor Statistics-Veterinary Careers
Tips for Preparing for Admission
Programs and Camps
AgDiscovery is a two-week residential program for high school students ages 15-17; the program is highly competitive and open to youths from across the USA. Students learn about the interconnections among wildlife biology and conservation, laboratory technology and diagnostics, animal science, and veterinary medicine. Every student has hands-on experiences on the farm, in wildlife environments and in the laboratory. Funding is provided by several USDA, Animal and Plant Health Inspection Service programs. Participants must provide their own transportation to the program. Contact: Janet Payear DVM, MPH, PhD; Scientific Outreach Coordinator; National Veterinary Services Laboratories; 1920 Dayton Avenue, Ames, IA 50010
Phone: 515-337-7003 
FAX: 515-337-7397
Janet.B.Payeur@aphis.usda.gov  
4-H Youth Development & Mentoring Programs
FFA Programs
Vet Camp-Iowa State Fair
Pre-Veterinary Club
The Iowa State University Pre-Veterinary Club is a student organization dedicated to the education and encouragement of personal and professional growth among its members and others through the pursuit and accumulation of knowledge in Veterinary Medicine and related fields of study.