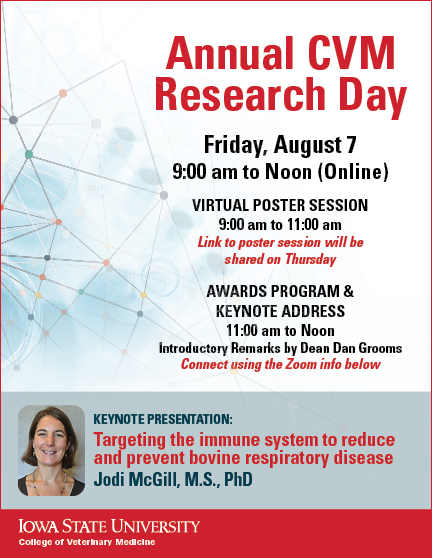 August 7, 2020
9 am - noon
Virtual Conference 
Iowa State University
The 2020 College of Veterinary Medicine Research Day highlights current research efforts at Veterinary Medicine and features the students participating in the Summer Scholar Research Program.  The event begins with a virtual poster session followed by a keynote presentation and an awards ceremony.  The recipient of the 2020 Zoetis Award for Veterinary Research Excellence will be announced as will the following:
CVM Summer Scholar poster Awards
CVM Graduate Student Poster Awards
CVM Postdoctoral Associate Poster Awards
Lora and Russ Talbot Graduate Fellowship in Veterinary Medicine
Livestock Respiratory Diseases Graduate Scholarship
Veterinary Medicine Biomedical Research Graduate Scholarship

The event features a presentation by invited speaker Jodi McGill, Assistant Professor, Veterinary Microbiology & Preventive Medicine from the College of Veterinary Medicine.