Out of His Comfort Zone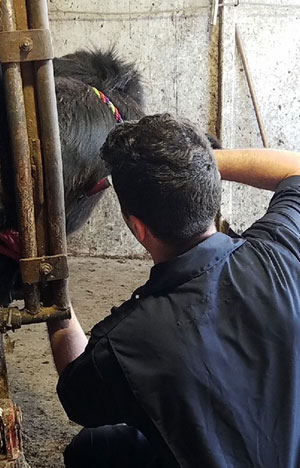 Aaron Sholin was excited about participating in the College of Veterinary Medicine's Summer Scholar Program.
Then he got the e-mail inviting him to work on a project that would evaluate acclimation and low stress cattle handling on the health and performance of feedlot cattle.
"The e-mail said I would be working with cattle this summer," he said. "It really took me out of my comfort zone."
Despite that, the third-year veterinary medicine student from the San Francisco area decided to take a chance. He made the decision even though he had no experience working with large animals nor had he worked on a research project before.
Working with Dr. Grant Dewell, associate professor of veterinary diagnostic and production animal medicine, Sholin quickly got to work.
Sholin was one of 28 students participating in the College's Summer Scholar Research Program which introduces veterinary students to research in a wide array of areas. His research project looked at the effect acclimating calves entering a novel feedlot environment. In particular the research was focusing on the animals' stress production levels with the end result of seeing decreased stress levels and increased production levels.
"Cows are coming from different parts of the country into feed lots," Sholin said. "When traveling the calves are subjected to many stressors which have a variety of effects including a decrease in immune function.
"That stress on the animal can cause them not to eat as much, reducing their marketability as well as increase the incidence of disease in particular bovine respiratory disease."
The study Dewell and Sholin conducted looked to see if acclimating cattle when entering a feedlot will help reduce stress levels and in turn decrease disease incidence and increase production. Preliminary results indicate herd acclimation does have a positive effect on daily weight gain of cattle.
The study has also determined that acclimated calves had lower cortisol (stress) levels.
Sholin also found another preliminary result from the research he conducted this past summer.
"I definitely want to stick with small animals," he said. "I really enjoyed the summer scholar experience but I'm more suited to serving patients in a clinical experience.
"In addition to learning a lot about large animals, this research experience also solidified what I want to do in my career."
August 2018