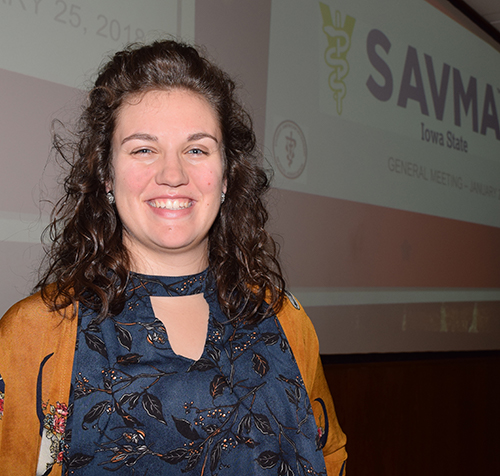 Madame President
When Abbey Smith tries something new, so goes the whole nine yards.
Smith, a third-year veterinary student from Adel, Iowa, was highly involved as an animal science undergraduate student at Iowa State University. But the highest student club office she held was treasurer.
Roll forward three years to this year when Smith serves as president of not one student group in the College Veterinary Medicine, but three at the same time.
"I didn't intentionally do this," Smith says. "It just kind of happened."
This semester Smith is serving as president of Iowa State chapter of the Student American Veterinary Medical Association (SAVMA), the American Association of Equine Practitioners (AAEP) and the Veterinary Public Health Club (VPHC).
Her journey to the ultimate leadership role in each of these student organizations is a story in amongst itself.
"I became involved with VPHC my first semester here and was one of the first-year representatives," Smith recalled. "Once you are an officer in VPHC you continue to move up and I had a choice between vice president and treasurer. I didn't want to be a treasurer again so I choose to be the VP, which automatically moves up to become president."
Last year, Smith was the social and trips co-chair for AAEP and became actively involved with the club before deciding to throw her hat in the ring for the presidency. After she was chosen, she convinced herself to limit her leadership roles to those two clubs.
"Then last spring right before applications were due, I considered running for SAVMA president but I thought it would be too much to do," she said.
At the last minute, Smith threw her hat in the ring and was selected to run another vet med club.
"After I won, I thought 'holy crap, how is this going to work,'" she said.
So far so smoothly for Smith's tri-presidency. She credits her executive teams in each of the three student groups for not only keeping the groups operating like well-oiled machines, but coming up with new and innovative ideas.
As for herself, Smith says, "I've always been a planner. I rely on my email calendar a lot and I have color coded each club."
She also knows SAVMA always meets on Mondays, while Tuesday is the VPHC meeting with Wednesday scheduled for AAEP. The clubs take up about 10 hours of her valuable time a week, but those activities and her classwork aren't all that keep Smith busy.
She is also a Student Ambassador for the college and is working on a master's of public health degree in addition to her DVM. Since her undergraduate days, she has worked in the Center for Food Security and Public Health.
"I've limited myself to those three clubs and the Veterinary Business Management Association," Smith said. "Beyond that, I can't do any more clubs. This is really all I can handle."
While she enjoys each of the groups, Smith indicates one club stands out.
"I really enjoy working on SAVMA," she said. "SAVMA probably makes the most impact on our school and students. The advocacy the group does is so important."
Although it wasn't her plan to lead three clubs, Smith says despite wanting to "pull her hair out" somedays, she would do it all over again.
"I wouldn't trade this experience for anything," she said, "although somedays I think my day is planned out to the minute."
January 2018