Demonstrated Excellence in Front of a Class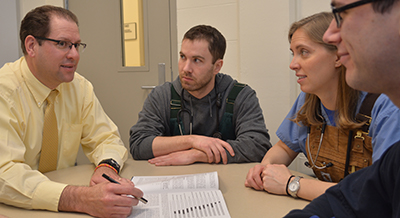 After graduating from Iowa State University with a DVM, Dr. Alex Ramirez did what most young veterinarians do – he joined a private practice with the intent of spending his career helping animals.
Yet something was gnawing Ramirez.
"Teaching is why I came back to Iowa State," the associate professor in veterinary diagnostic and production animal medicine said. "I've always enjoyed teaching so when the opportunity came up to come back and work here I jumped at the chance."
Seems like not only does Ramirez like to be in front of a classroom but it is very, very good at it.
This past fall, Ramirez was named the recipient of the Iowa State University Early Achievement in Teaching, given annually to faculty members who have demonstrated outstanding teaching performance unusually early in their careers.
Ramirez carries one of the heaviest teaching loads in the department and college, something that is by design. Each semester he typically serves as an instructor-in-charge of six courses and participates in teaching at least six other courses. He also serves as instructor-in-charge of two other courses in swine production medicine.
As you can tell he loves to teach.
"My primary focus is to make students think for themselves," he said. "I'm less concerned about having them memorize facts, but rather we discuss what is important to give them an excellent foundation."
And while Ramirez is also a believer in technology in the classroom, he advocates a mixture of technology with basic classroom instruction.
"We all learn differently," he said. "In today's world you are more likely to connect with students better if you use some form of technology in the classroom. But I'm not going to use a PowerPoint just because I can. I make sure that I am properly using PowerPoint."
Even though he is recognized as an outstanding instructor, Ramirez says he has left a classroom more than once wondering if he has connected with his students.
"We have fantastic students in the College of Veterinary Medicine," he said, "students that are interested in learning. But there are times I leave a classroom and know that I was unable to clearly articulate the subject matter to them.
"The very next class period, I immediately revisit the material, explaining the key concepts that they need. More than anything else, I want to make sure the students understand the material."
He has had success on that front as well.
His Iowa State students consistently outperform their peers on the swine portion of the NAVLE and they are the deepest in the number and best prepared at the highly competitive AASV student oral and poster competitions.
"One of the things I love about teaching here is that both the university and the college does recognize faculty for their teaching," he said. "Faculty members like me who love to be in front of a class are fortunate that we can follow that passion."
October 2016