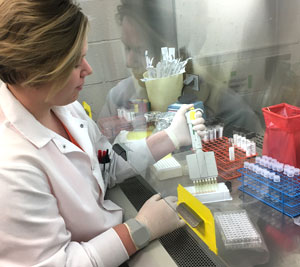 Learning New Things
Several questions awaited Anastasia Schroeder as she began her summer in between her first and second year of veterinary school at Iowa State University.
Would her limited background working with large animals be an issue? Would the other members of the research lab accept her? And would her lack of experience as a researcher hinder her summer?
These were all important questions for Schroeder as she prepared to participate in the College of Veterinary Medicine's Summer Scholar Research Program. The program annually introduces veterinary students to research in a wide array of areas.
Schroeder quickly received positive answers to each of her questions.
"I had no real research background," the Moville, Iowa, native said, "but everyone on the research team was so accommodating and helpful. If I had any questions they told me how they did things and maybe most important, why they did things certain ways."
Schroeder worked with Dr. Qijing Zhang, Distinguished Professor of veterinary microbiology and preventive medicine, looking at antibiotic resistance in Campylobactor, a foodborne pathogen. The project looked to see if there is a link between the antibiotics used for respiratory diseases in cattle and Campylobacter resistance rates.
"Dr. Zhang was great at giving me feedback," she said. "He encouraged me to assist others on the research team and to get involved in his lab in other ways outside of the research project.
"He really wanted me to have every opportunity to learn new things."
A self-described "small animal person," Schroeder said this summer was her first introduction to large animal medicine.
"I really enjoyed it," she said. "With small animals you don't get the problem we were researching as much so this was a much different way of looking at diseases.
"With large cattle herds, if one animal is sick you can't just treat that one because if you do, the whole herd could become ill. You have to look at the entire herd's health instead of just having one dog to treat."
During her summer project, Schroeder analyzed data from the pilot project and collected blood and other samples from cattle, opportunities she wouldn't have had without the summer scholar experience.
August 2018