Fly Like an Eagle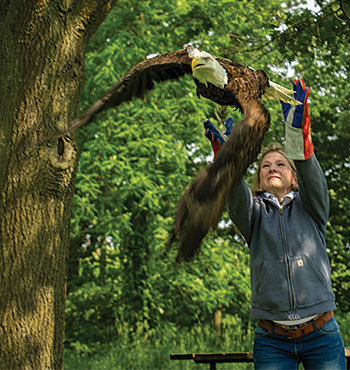 On a rural Marshall County road a semi-truck driver struck an adult male bald eagle, severely injuring the raptor.
Most individuals probably would have traveled on, but not this driver. Instead he called a friend who happened to be a park ranger with the Marshall County Conservation Board. The ranger rescued the eagle and transported it to the College of Veterinary Medicine at Iowa State University.

That's where Dr. Mary Bergh and the college's Wildlife Care Clinic came on the scene.
The collision with the semi badly fractured the bald eagle's upper wing bone and also caused scrapes along the wing's trailing edge. Dr. Bergh, a veterinary orthopedic surgeon and associate professor of veterinary clinical sciences, pinned the fractured wing during surgery.

After the eagle was stabilized he was transferred to SOAR (Saving our Avian Resources) in Dedham, Iowa, where he underwent rehabilitation.

Dr. Bergh's connection with the bald eagle didn't end with the surgery. After three months of rehabilitation at SOAR, the eagle was released back into the wild, courtesy of a farewell release by the good doctor.
June 2015