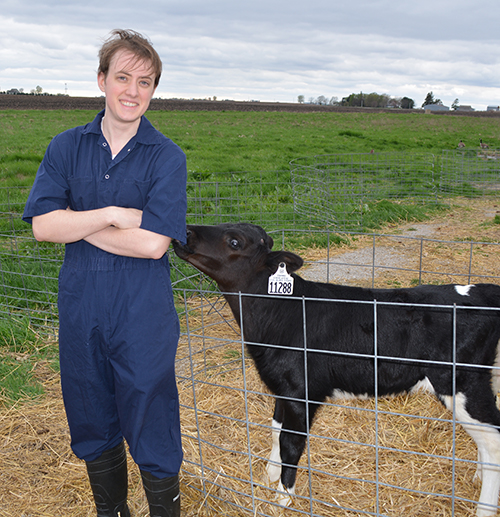 Almost from the Start
Barb Birtcil has had a roundabout journey to becoming a veterinarian.
After graduating from high school in Minnesota, she pursued a degree, in all things, stagecraft at the prestigious Savannah College of Art and Design. That's about as far away from a veterinary education as possible.
Then after two years in Georgia, she transferred to Arizona State University where she completed a degree in biology. While there among other things, she conducted research on the behavior and social dynamics of California dampwood termites.
It was while a first-year veterinary student at Iowa State Birtcil first started to develop an interest in animal welfare.
And she hasn't looked back since.
"Coming into vet school I didn't have a lot of experience with dogs or horses, and I felt this course, plus an elective course I took on animal behavior, would be a good way to learn about their body language," she said.
She began her preparation for vet school as an undergraduate with an emphasis on animal physiology and behavior. While she had a good foundation on behavior from an evolutionary standpoint, she was lacking that hands-on perspective she received in this course.
"Understanding welfare requires knowledge of not only an animal's basic needs, but also their psychology and how they perceive our actions when we work with them," she said. "Putting low-stress handling methods into practice can greatly improve client perception."
For instance, she said if a dog enjoys going to the vet, owners will be more likely to get treatment for their pet and less likely to search for those services elsewhere.

Effective treatment of animals stretches past dogs and cats in vet clinics however. Environmental and handling conditions can stress a horse, maybe even leading to a clinical disease.
"I have learned it is imperative for veterinarians to have a working knowledge of the laws and legal standards regarding animal welfare in the food animal industry, where farms and abattoirs can be reprimanded for handling violations," she said.

Birtcil plans to make this field a significant part of her professional career. She hopes to secure a position with the USDA Food Safety and Inspection Service, a job that involves the enforcement of humane handling procedures at abattoirs.
April 2017