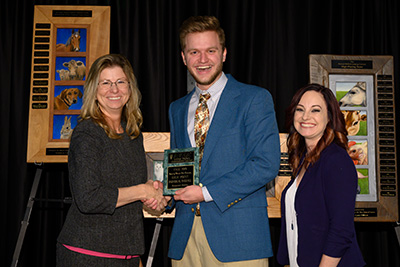 Surprise, Surprise, Surprise
Want to know how surprised and excited Caleb Brezina was when he learned he had finished in first place at the 2019 AVMA Animal Welfare Assessment Contest in the overall individual category?
Just look at the photo above. Then double or even triple his level of surprise and excitement.
"Dr. Millman says my jaw dropped when they made the announcement," Brezina, a first-year veterinary student from Council Bluffs, said. "I didn't know if I could stand and go get my award."
Even though he is just a first-year veterinary student, Brezina is no stranger to animal welfare. While an undergraduate student at Berry College, he competed in a similar competition. The results, he says, "weren't nearly as good as this time."
Still Brezina enjoyed the competition and wanted to continue to study this year as a veterinary student. So he was pleased when he enrolled as a first-year student at Iowa State to learn that the animal welfare course was an elective he could take.
The course is taught by Dr. Suzanne Millman, professor of biomedical sciences and veterinary diagnostic and production animal medicine. As part of the class, the veterinary students practiced for the competition.
Practice made perfect for Brezina at this year's AVMA competition. The animal welfare assessment contest consisted of one live session and three "closed" sessions.
During the live session, Brezina competed with his teammates Isabella Schroeder, another first-year student, and Jasmine Hanson, a second-year student studying at the University of Nebraska-Lincoln as part of the 2+2 program with Iowa State. The group analyzed the welfare of sheep brought into the competition arena.
The three "closed" sessions focused on the animal welfare of African Wild Dogs, zebrafish and broiler chickens.
"There are different ways you can approach the competition," Brezina said. "I looked at what was the best in terms of the welfare of the animals.
"Being a veterinarian you have to put yourself in the individual animal's shoes. The contest is heavily weighted to evidence-based research."
Competitors are given 45 minutes to prepare for a 3-minute oral speech. Brezina did his presentation on the zebrafish category for which he received an almost perfect score.
Even though he thought he had done well, Brezina wasn't prepared for his victory. A few weeks after the fact though the results have sunk in.
"I'm pretty calm now," he said. "I got a lot of help along the way, not only my teammates in the competition but other students that were in the class who helped me refine my ideas."
January 2020