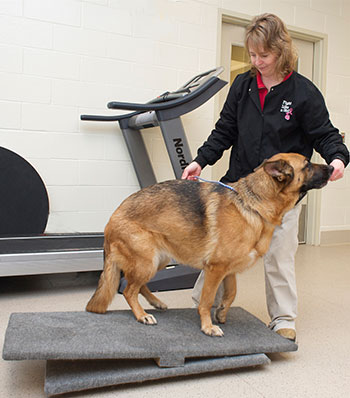 Getting Dogs Back on Their Feet
Five minutes on a treadmill isn't intimidating to most of us.

Try telling that to Willie who faces a multitude of challenges in his daily routine on a specially built underwater treadmill. Two veterinary medical students encourage Willie throughout his five minutes as he attempts to recover from spinal surgery performed to ease the pressure from a bulging disc that was compressing his spinal cord.
If that's not enough of a challenge, you should know that Willie's legs are pretty short. You see, Willie is dachshund and a regular at the Canine Rehabilitation Center in the College of Veterinary Medicine's Lloyd Veterinary Medical Center.
The center offers complementary therapy for patients who have orthopedic or neurologic injuries. On any given day, patients range from sporting or working dogs with ligament damage to older dogs with arthritis. Dogs such as Willie face difficult recoveries from spinal surgeries while others may have permanent leg damage caused by a birth defect.

"Our goal with animal rehab is to help these dogs get back on their feet," said Joanna Hildreth, veterinary technician who oversees the patients in rehabilitation. "We want to make sure these dogs have a normal life where they can go for a walk, are able to use the stairs in their homes or are even just able to perform basic bodily functions – if not return to full function and competition."

With the recent renovation of the Lloyd Veterinary Medical Center, the Canine Rehabilitation Center is now a state-of-the-art facility with an in-ground pool, underwater and land treadmills, therapeutic ultrasound, neuromuscular electrical stimulation and a separate room for kennels.

Patients receive customized therapy plans and a lot of encouragement from the technicians and veterinary students on rotation. 

"This is a great job that is not only rewarding but fun," Hildreth says. "It's a really neat feeling to see a dog that can't walk and through our rehabilitation efforts they later get back on their feet."