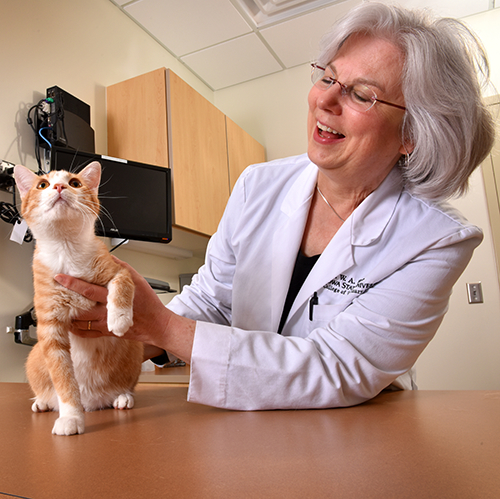 Matters of the Heart
Creating Compassionate Care as a Legacy
In 2003, Phyllis Clark, brought her part, Tache, a 6-year-old domestic shorthair cat, to Iowa State University's Hixson-Lied Small Animal Hospital. Clark's local veterinarian had tentatively diagnosed Tache's shortness of breath and sluggishness as congestive heart failure, but needed Iowa State veterinary cardiologist Dr. Wendy Ware to confirm.
Thirteen years later, Ware still remembers the "very quiet, very pleasant woman" she met at the first appointment, who was clearly concerned for her ailing pet. For the retired legal secretary, her cats were her family. She accepted that Tache's enlarged heart meant she'd soon be gone, though Ware was able to ease her discomfort a few more times in the coming weeks. Four months after the initial appointment, Tache died. Though Ware never saw Clark again, the veterinarian's ability to assuage Tache's discomfort and extend Clark's time with her cherished pet resonated with the Des Moines woman, who passed away in 2014.

Last year, the College of Veterinary Medicine received a substantial gift from Clark's estate establishing the Phyllis M. Clark Professorship in Veterinary Cardiology – with Ware named the position's first holder. "I was amazed and felt humbled," Ware says about learning of the gift. "It's especially hard when we work with clients for a period to time. You know their circumstances; you know how deeply they care for their animals. There have been tears shed all around in some cases."
For nearly 30 years, Ware served as the college's sole – and first woman – veterinary cardiologist. Ware's training included a residence at Ohio State University, which has led her to consider helping enable a similar training ground for future veterinary cardiologists with funds from the Clark Professorship. Ware also hopes to use professorship funds to hire more students to assist with research projects, and conduct surveys to investigate and improve the client experience and home management for pets with congestive heart failure.

And at the top of her wish list? The purchase of a hear sound simulator system that will help students learn to recognize and distinguish different normal and abnormal heart sounds. "It's a challenging skill to learn," Ware explains, but one of great importance when determining matters of the heart. Phyllis Clark would have liked the sound of that.
September 2016