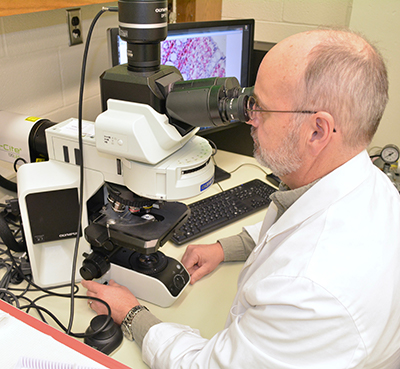 Comparative Pathology Core Service
The Comparative Pathology Core (CPC) in the Department of Veterinary Pathology provides pathology support for a wide range of research projects involving animal models.
This includes gross and microscopy pathology, clinical pathology, special imaging, digital photography (gross and microscopic) and data analysis with cases ranging from ophthalmology to oncology.
Established in 2011 and staffed by seven veterinary anatomic pathologists and four veterinary clinical pathologists, the CPC has been involved in a broad range of projects including toxicology, vaccine studies, infectious diseases, nutritional physiology, neoplastic disease, musculosketal disease and developmental disorders. The service has assisted researchers not only at Iowa State University but at programs from Penn State University, the University of Louisville and local biotechnology firms.
After starting with just a handful of projects in 2011, the CPC assisted over 60 projects in the last year alone. Much of that can be attributed to the addition of RNAscope, a relatively new technology that has made a world of difference in how the CPC operates.
"Since we added the RNAscope to the service we have seen a real increase in our projects," said Dr. Jesse Hostetter, CPC director and professor of veterinary pathology. "It's been a big boon to our service."
Developed by Advanced Cell Diagnostic, RNAscope is a universal method of situ hybridization that yields a strong, highly specific, visual signal on formalin fixed/paraffin embedded tissues. This new research tool provides researchers with a mechanism to accurately identify gene expression within a tissue and to be able to localize this signal to a specific cell type. The CPC offers this service to researchers in the College of Veterinary Medicine, Iowa State, other colleges and universities as well as industry customers.
"RNAscope works very well for veterinary medicine," Hostetter said. "Immunohistochemistry has been a standard research technique and while it remains an extremely use tool, it has its limitations."
Hostetter says these limitations include species-specific primary antibodies that are not always available for animals beyond the mouse. There are also numerous investigators whose research focuses on pigs, horses, dogs, cattle, sheep and cats. With RNAscope, if the gene of interest has been sequenced, there is a very high likelihood of getting the probes designed for a target and having rapid visualization of that target.
"We have a lot more success and ability to work with any animal species thanks to this technology," Hostetter said.
Utilization of CPC services has increased dramatically in large part to the RNAscope and another new technology – HALO image analysis. The CPC began offering HALO to researchers in the fall of 2016. The ISH module for HALO was specifically designed to work with RNAscope samples for measurement of target signal. This system provides researchers with objective data that includes signal frequency at the cellular level. In addition, the HALO system can be used to quantify immunohistochemistry signal and take morphometric readings on standard (hematoxylin and eosin stained) tissue sections.
"There was a real need for this type of pathology support when we established the service back in 2011," Hostetter said. "Before CPC was created there wasn't a streamlined way for an investigator to link up with a veterinary pathologist or for a researcher to get the pathology component of their project underway.
"This service assists in establishing the link between the researcher and pathologist and provides technical support needed for a given project."
May 2017