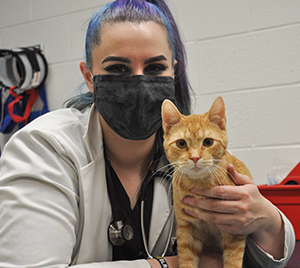 Kate Alucard's life is rarely boring.
She is the president of the national Pride Student Veterinary Medical Community, the American Public Health Association's Veterinary Public Health Student Liaison and is the information officer for the ISU Graduate and Professional Student Senate.
Enrolled in 27 credits and taking care of four cats, her 'spare' time is minimal at best.
Yet she's determined to make a difference.
And one difference she hopes to make has its roots in a new research study she has undertaken. A DVM-MPH student, Alucard is the recipient of a competitive grant from PetSmart Charities allowing her to research access to care among communities in need throughout the state. Rural states such as Iowa often face several factors contributing to reduced access to veterinary care including the social determinants of health.
The project will determine where "veterinary deserts" exist – areas with reduced numbers of veterinarians or veterinary clinics. That is important, Alucard said, because identifying these communities is the beginning to improving access to care. Not only do certain parts of Iowa not offer emergency care, but some of these same areas are deficient in low cost care options including spays and neuters.
"Long-term, the project's goal is to use the data collected to then initiate programs with community partners in areas of need and to collaborate with them to develop service-based learning projects for veterinary students that support the health and well-being of owned pets," Alucard said.
Alucard has just begun working on the project. Originally, she was looking to collect data on counties within a two-hour radius of Ames, home of Iowa State University's College of Veterinary Medicine and its world-class Lloyd Veterinary Medical Center.
Now she is in the process of mapping every veterinary practice in Iowa to see where they are located. Once that is done she hopes to determine just how far people will drive for veterinary care for their companion animals using population density and the number of people in a county who commute outside that county for employment purposes.
"This is a more in-depth way to evaluate this issue," Alucard said. "Hopefully we can come up with a system that will allow other states to evaluate their own veterinary deserts."
Alucard is working with Dr. Joyce Carnevale, clinical associate professor in veterinary clinical sciences, on the PetSmart grant. The timeline is to complete the research by the end of this summer with a preliminary report at the end of 2021.
"This is the first grant I've ever received or been a part of," Alucard said. "When Dr. Carnevale let me know that we had received it, I honestly couldn't believe it. It is an incredible opportunity to help others, and make this field more accessible."
In addition to this project Alucard is involved in other research projects and will graduate with her MPH from the University of Iowa's College of Public Health in May.
She hopes to use this data to catalyze a long-term project such as a PhD so she can further give back to the animals (and humans) that need it most.
I'm incredibly fortunate to be in a position of privilege where I can help not just animals, but humans too," she said.
March 2021