Experienced Traveler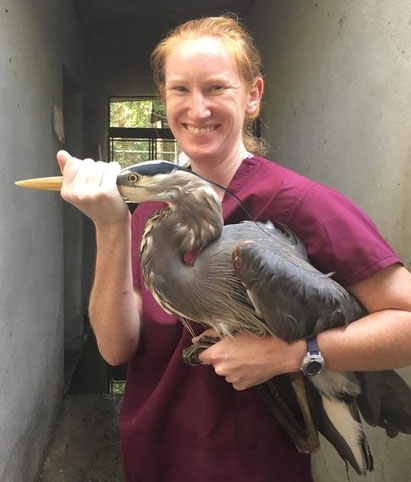 Traveling abroad is nothing new for Emily Mocarski. The second-year veterinary medicine student has ventured outside the United States on several occasions with her family since she was a young child.
But this summer, Mocarski wanted to do something a little different with her travels.
"I really wanted to combine my love of traveling with my love for veterinary medicine," Mocarski said. "I had never formally studied abroad before, but my traveling experiences helped me to be mostly prepared for whatever came my way."
Mocarski took advantage of the College of Veterinary Medicine's study abroad program with a trip to Guatemala this past summer. Her interests in wildlife and exotics medicine helped provide her with what she thought was the best opportunity to learn more about wildlife medicine and rehabilitation.
After returning from her two-week experience in Guatemala, Mocarski said she got out of the program what she was expecting.
"I got a lot of experience working with both the volunteers, interns and the veterinarians at ARCAS, which provided me a well-rounded education in treating and managing the wildlife in their care," she said. "Working so closely with the veterinarians showed me that their approach to treatments and rehabilitation had to be quite different depending on the animal and the situation."
During the two-week study abroad program, Mocarski and fellow Iowa State veterinary students Laura Kellow and Melinda Austin did basic animal husbandry jobs including food preparation, enclosure cleaning and maintenance, and feeding the animals. They also attended lectures on the various aspects of wildlife medicine and rehabilitation progression and learned the proper handling and physical examinations of some of the animals.
"We did work with the vets in the clinic with their daily treatments, intake examinations, parrot neonatal care and surgery," Mocarski said.
The program wasn't all veterinary work however. Mocarski and the other Iowa State students took a weekend trip to nearby Mayan ruins and learned some of the history of Guatemala and its people.
"This was a great experience," Mocarski said. "Learning about other cultures and biospheres, getting out of my comfort zone and have new adventures is exciting and stimulating.
"It provided me with a new understanding of other cultures and an appreciation for the privileges we take for granted here in the United States."