Spending the Summer at the Zoo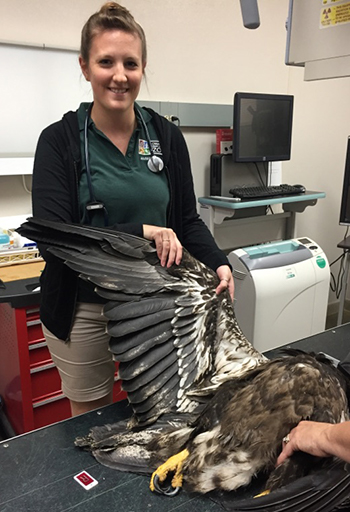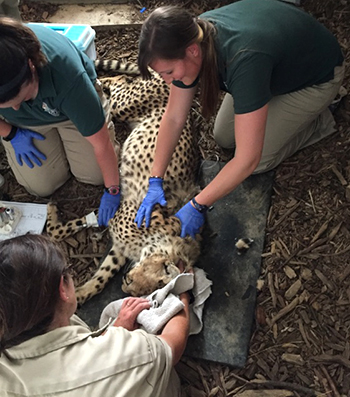 The zoo is a popular travel destination spot for summer travelers across the country. And as one of the nation's top ranked attractions, the Henry Doorly Zoo in Omaha sees its share of summer visitors.
Emma Chalupsky spent her summer at the Omaha zoo, but not as a tourist. The fourth-year student in Iowa State University's College of Veterinary Medicine had a five-week preceptorship at the world-famous Henry Doorly Zoo where she says she "followed vets around all day."
"I didn't know how much I would be able to observe," the Cedar Rapids native said. "It's a 'closed collection' after all, and I wondered how many problems they could possibly have."
Chalupsky shouldn't have worried. She saw more than her share of cases. "We saw multiple cases every day," she said and there were always daily routine physical exams given.
The cases included a procedure on a spider monkey where the attending veterinarians removed a section of the animal's intestine that had abscessed and adhered to the abdominal wall.
"The veterinarians were unsure of what we'd find when we opened her up and they were all excited to solve the mystery," Chalupsky said.
Chalupsky either observed or assisted with other cases including trimming the tusk of an elephant, ultrasound procedures on primates, aardvark and a desert pig, and a skin graft on a bald eagle.
This is actually Chalupsky's second summer at the Henry Doorly Zoo. As an undergraduate she had a seven-week "keeper" internship at the facility. It helps that an older brother lives in Omaha and she can stay with him during the summer.
But even more than that, Chalupsky is familiar with the Henry Doorly Zoo.
"It was the first zoo I ever went to," she said. "I've always loved that zoo growing up."
The zoo preceptorship was just one part of her summer-long experience with wildlife. Chalupsky went on a 16-day college study abroad tour in South Africa where she observed animals in the wild and worked with local veterinarians.
Both experiences have galvanized Chalupsky's desire to become a zoo veterinarian after graduation. She knows the challenges but says she is encouraged to pursue her dream even more now.
"Observing what I saw at the Henry Doorly Zoo, I realize the skills we learn here (at Iowa State) that we use on companion animals and food animals can be applied to other species," she said. "It's not as difficult as you might imagine."
October 2017