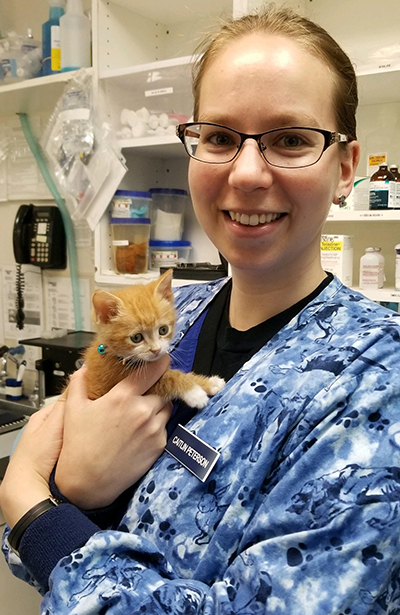 Good Advice
As Caitlin Peterson was exploring how she would spend her summer, she turned to a fellow College of Veterinary Medicine student.
The previous summer that student had participated in an Emergency and Specialty Clinical Mentorship Program at Iowa Veterinary Specialties, an affiliate of the College of Veterinary Medicine in Des Moines. She highly recommended that if Peterson was interested in companion animal medicine she should take the eight-week course.
"She told me the IVS program was a really good experience," Peterson said, "that you got to see a lot of diverse things in the emergency environment at IVS."
The fact that Peterson was even considering looking at companion animal medicine frankly came as a surprise to her. After graduating from college, she spent the next five years working in the swine industry and came to Iowa State with the expressed goal of becoming a swine veterinarian.
She even completed a summer internship after her first year of vet school at Iowa State working in the swine industry.
But something was missing – the human/animal bond that occurs between an owner and their pet.
Peterson and seven other second- and third-year veterinary students spent eight weeks at IVS. Peterson participated in four, two-week rotations including overnight emergency care, overnight technician observation, specialist rotation and daytime emergency care.
"I really enjoyed it," Peterson said. "I was able to build on what I had already learned, especially the technical skills I got to do at IVS."
During the mentorship program, Peterson and the other Iowa State veterinary students worked with emergency room technicians, did blood draws, checked on overnight patients every hour, observed how clinicians communicated with clients, followed around IVS' staff oncologist and surgeon, looked at radiographs and ultrasounds, interpreted diagnostic tests, and helped with CT scans.
The eight-week stint at IVS solidified Peterson's initial career path.
"I came to vet school with the idea of becoming a swine veterinarian," she said, "but we just picked our options for our fourth-year rotations and I'm going to track small animal medicine and maybe even focus on veterinary care for cats."
Peterson's interest in cats even extended to her work this summer at IVS. She did a research study on cats entitled "Urinary Obstruction in Cats: An Emergency Condition in our Feline Friends." In the study, Peterson looked at an 11-year-old neutered male domestic short hair cat who was brought to IVS due to concerns about his urination habits.
After the cat was diagnosed with a urethral obstruction and a urinary tract infection, the cat was treated by putting a urinary catheter in place and with medication. After 48 hours, his condition improved greatly.
A cat suffering from diabetic ketoacidosis will also stick out in Peterson's mind for the rest of her veterinary career, due largely to the bond between him and his family.
"When he came in he wouldn't lift his head and was in pretty poor condition," Peterson said. "When he improved and I took him out to see his owner, she was so excited that he was better.
"You don't get quite that type of response in production animal medicine."