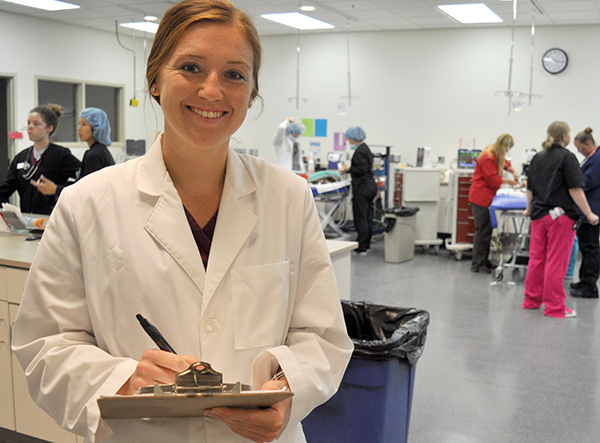 A Head Start
After spending six years at the University of Nebraska-Lincoln, Alissa Martindale was a little apprehensive about moving to Iowa State University for her final two years of veterinary school.
Iowa State and the University of Nebraska offer a program where Nebraska students are admitted to Iowa State but complete the first two years of the veterinary curriculum at the Lincoln campus before spending the final two years in Ames.
Martindale decided to get a head start on what life would be like in her new community by spending the summer in Ames.
"I wanted to get situated here before classes started," said Martindale, who also holds a bachelor's degree from the University of Nebraska-Lincoln. "So I decided to participate in the Summer Scholars Program."
Martindale spent the summer researching the correlation of intraoperative antibiotic administration with hypotension with Dr. Eric Zellner, assistant professor of veterinary clinical sciences. The Summer Scholar Program introduces veterinary medicine students to research in a wide array of areas as they investigate specific issues that match their interest and the work of an established researcher.
Martindale's summer research project looked at the drug Cefazolin and the effects the drug has on blood pressure on animals during surgery. The drug is used to prevent bacterial infections and when the project is complete, Martindale hopes to look at the results from 150 patients.
"Our preliminary results show that we haven't seen any statistical differences in blood pressure rates of patients receiving Cefazolin during surgery," she said.
The Summer Scholar Program not only gave Martindale a head start on living in Ames but experiencing what life will be like in the College of Veterinary Medicine her final two years.
"I'm really glad I picked this clinical trial study," she said. "I got to see what a fourth-year student does on a daily basis and get a feel for what my fourth year will be like."
Just as valuable though was the time she spent at Iowa State and Ames getting familiar with the college and community. Martindale had a built-in advantage, rooming with her younger sister who is a sophomore and plays on the Cyclone women's soccer team.

"I always lived on campus at Nebraska, that living off-campus here was a shock in itself," Martindale said. "I had to learn everything all over again – where to shop for groceries, where to do laundry at, where to go out to dinner at."

To become even more familiar with the Ames community, Martindale and her sister got part-time hosting jobs at Hickory Park.

"That was a good decision," she said. "Not only did I make a little extra money but I met people there I wouldn't have otherwise."
And once her Nebraska classmates started to arrive in Ames, she was able to show them the ropes.

"But I think their arrival helped me out as much as I helped them," Martindale said. "Having all my Nebraska classmates here now makes it feel a little more like home.
"Spending the summer in Ames was the right decision. It has helped me a lot."
September 2019