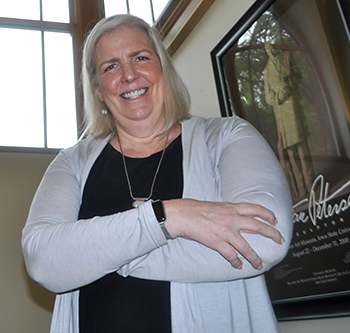 An Influential Veterinarian
It's been a while since Dr. Holly Bender learned she was named among "15 Most Influential Veterinarians" by VeterinarianEDU.org.
And she still doesn't know exactly why she was chosen.
"If I had to guess I'm thinking it was probably for my work with Diagnostic Pathfinder," the professor of veterinary pathology said.
Regardless of why she was selected, Bender is in select company. Others named to the prestigious list are Dr. Temple Grandin, a world renowned expert in animal restraint, handling and behavior; along with veterinarians who have authored textbooks, excelled in the classroom, specialized in holistic medicine, become pioneers in veterinary acupuncture, and conducted canine brain tumor research.
"These are very impressive individuals," Bender said. "I'm honored to be associated with them."
For Bender, her work with Diagnostic Pathfinder, a software tool to aid in the analysis of symptoms and clinical data to reach a diagnosis, more than qualifies her for this list.
Bender and her team first created Diagnostic Pathfinder while at Virginia-Maryland Regional College of Veterinary Medicine. The team was seeking a way to teach veterinary students the complex skill of making a diagnosis using laboratory data.
"Pathfinder does not do the thinking for the veterinarian or the veterinary student," Bender said. "It helps them learn how to analyze data in a logical and complete diagnostic path and gives immediate expert feedback. It also makes their thinking processes visible."

Since its development Diagnostic Pathfinder is used in 25 U.S. veterinary colleges by thousands upon thousands of veterinary students.
It also helped to lead Bender to a new career path and to the Center for Excellence in Learning and Teaching. As the associate director of the center she leads the university's faculty development programming and directs the Preparing Future Faculty (PFF) and Graduate Student Teaching Certificate (GSTC) programs.
And along the way, she has also helped develop ThinkSpace, the next generation of Diagnostic Pathfinder. The cognitive tool has expanded its use from veterinary students to PhD students and undergraduates in many disciplines both within and outside veterinary medicine. Currently she helps to lead an Iowa State faculty learning community of over 100 faculty ThinkSpace users.
Being named among the "15 Most Influential Veterinarians" isn't the only award Bender has received. She is the recipient of more than 25 teaching awards in her career in addition to 40 education-related grants.
And in December, Bender will be recognized once again – this time by the American Society for Veterinary Clinical Pathology with its 2016 Educator Award.
November 2016