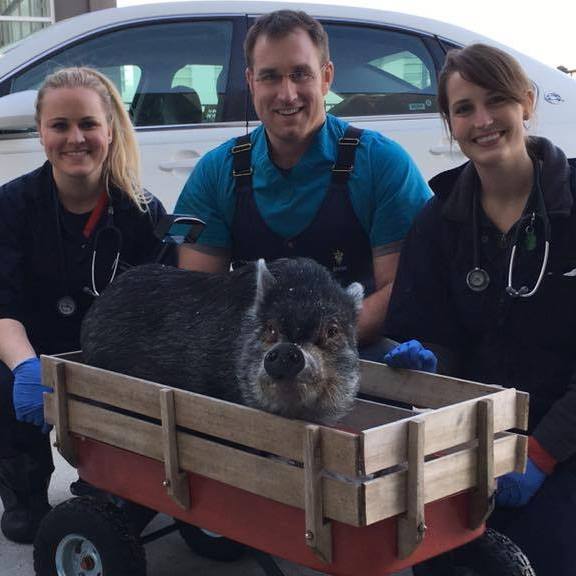 Taking Care of Pot-bellied Pigs
Technically Dr. Joe Smith is a large animal internal medicine specialist in the College of Veterinary Medicine's Lloyd Veterinary Medical Center.
He has focused on dairy cattle, bucking bull sports medicine, sheep, goats, llamas, yaks and reindeer – you name it and the clinical assistant professor has done it.
But lately Smith has become the "go-to" veterinarian at Iowa State University when it comes to pot-bellied pigs.
"While I was a resident at the University of California-Davis we would see between 100 and 200 pot-bellied pigs a year," Smith said, "so when I got to Ames I introduced myself to Dr. (Bianca) Zaffarano, who is in charge of our exotic medicine to let her know I was available to help out if any pot-bellied cases came through the hospital."
Pot-bellied pigs are domesticated animals originating in Vietnam and are just one of several different breeds of miniature pigs kept as pets. In recent years, miniature pigs have made their way into United States homes, becoming the preferred pets in an estimated 1 million U.S. and Canadian households.
But diagnosing and providing care for these animals isn't high on the vet school academic curriculum, which causes issues when an animal comes into a vet clinic.
 "There's not a lot out there in medical literature," he said. "Although their anatomy is similar to a farm pig, you have to think outside the box when it comes to treating a pot-bellied pig."
In recent months, a few of these animals have been referred to the Lloyd Veterinary Medical Center and come under Smith's care. One was Zena, who was brought in by her New Hampton, Iowa, owner after losing 20 pounds. "This case was very tricky," Smith said. "She had an acute kidney infection and an inflammation. She was off her feed and wouldn't eat."
Smith diagnosed Zena with renal failure and the veterinary team was suspicious of leptospirosis, a bacteria carried by rodents that can cause kidney infections. Because of the vein structure of pot-bellied pigs, Smith and his team had difficulty getting fluids into the animal. She was eventually placed in an isolation stall where she continued to get worse, still not eating and hardly moving.
Ultimately Smith and his team had to resort to a catheter placed into Zena's tibia, a bone in the leg, to rehydrate her. They borrowed this technique from human paramedics that have difficulty accessing veins in emergency situations.
Thinking all the options for treating Zena had been exhausted Smith called her owners, preparing them for the worst.
"It was like a miracle when Zena saw her owners," Smith said. "She immediately got up, urinated for the first time in three days, responded to them and started eating again."
Turns out pot-bellied pigs are incredibly social animals. Seeing a familiar face was just the medicine Zena needed. The owner returned daily for several weeks and Zena continued to improve.
Zena even "face timed" with her pot-bellied pig friends back in New Hampton, further escalating her recovery time. "It was amazing," Smith said. "Every time Zena heard the other pig she would perk up. It definitely aided in her recovery time."
Zena turned out to be anemic and Smith prescribed a supplemental hormone that she will probably have to take for the rest of her life.
And thanks to the efforts of Smith and his team, that life is a lot longer than was anticipated.