You've Just Won a $75,000 Scholarship?
What are you going to do next?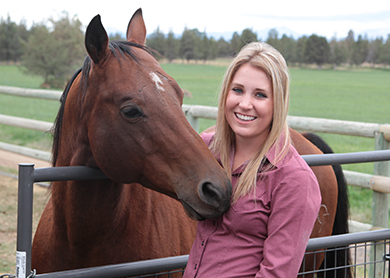 Do you?
Hang up because this must be a scam or joke?
Pull over to the side of the road because you are shaking so much?
Or act nonchalant and pretend this is just an everyday occurrence?
If you're Lainie Kringen, you do a version of all three because it actually happened.
Kringen, a fourth-year student, is the recipient of the 2016 Coyote Rock Ranch Scholarship, a $75,000 award that is awarded annually through the American Association of Equine Practitioners (AAEP) and the American Quarter Horse Foundation.

The scholarship was established by Phil and Penelope Knight of Nike fame. The Knights are the owners of the Coyote Rock Ranch, an Oregon breeding operation for high-end cutting horses.

"The amount is incredible," said Kringen. "It's basically the difference between in-state tuition and out-of-state-tuition for the four years of vet school.
"This is an incredible burden that has been lifted off my shoulders as I start out in the profession."
Kringen applied for the scholarship on a whim, thinking what could it hurt to apply. She was actually informed that she wasn't a recipient – that two other veterinary students across the country were selected.
But then came that fateful call on the way back home to South Dakota.
"I got an email asking me to be part of a conference call," she said. "The AAEP said they needed a vet student on this panel and I said sure, why not, I'm just driving home and I had plenty of time to talk.
"I really thought they were playing a joke on me, but when they said I should pull over. I have to admit I was shaking a little."
It turns out Kringen actually tied for the second scholarship in the rankings and the Knights decided her application was so stellar that they added a third Coyote Rock Ranch Scholarship this year.
In addition to the scholarship, Kringen received a trip to the Oregon ranch where the scholarship recipients got to ride the horses, meet the staff and tour the ranch.
"Everyone there was so focused and passionate about what they were doing, it really impacted me as someone who wants to be an equine practitioner," she said.
Kringen would fit right in at the Coyote Rock Ranch. She is passionate about her education and has spent much of her fourth year doing preceptorships at veterinary clinics and other facilities that focus on equine medicine in Texas, Wyoming and South Dakota. She also participated in a preceptorship on cattle in Canada.
Her career goal is to own her own business in South Dakota and concentrate on equine medicine, goals which fit right in with the scholarship criteria.
"I believe I was selected because we need more people to have a passion about horses and who want to bring top notch medicine to places like my South Dakota home that are not served," she said. "I hope to be able to do that and this scholarship makes that dream more of a realty now."
October 2016