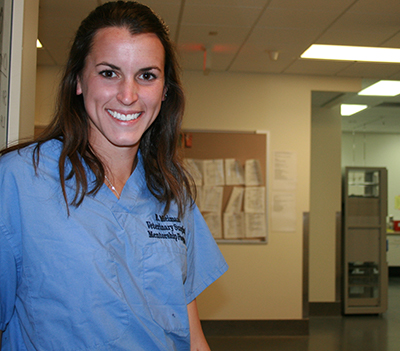 Beginning to Click
Mentorship Program Leads to Career Choice
Nearing the end of her first year of veterinary school, Elizabeth Meiman was looking forward to returning to her home state of Connecticut for the summer months.
Then she learned about a mentorship program offered in the College of Veterinary's surgical program and decided "what the heck."
"I applied for this on a whim," she said. "When I was offered a spot in the mentorship program it was a no brainer to decide to do this for the summer."
So instead of heading back to Connecticut in May, Meiman has spent the past two summers working with Dr. Karl Kraus, professor of veterinary clinical sciences, and the rest of the Iowa State veterinary surgical team. And truth be told, if she was eligible to participate a third summer, she would jump at the chance.
"I knew I would be receiving top-notch training in the program," Meiman said. "But even now I'm still realizing how valuable that development will be as I learn more about this profession and career path."
Meiman says her summers spent in Ames have helped prepare her for her fourth-year clinics and applications after graduation. The current third-year student says while it was "tough to give up her summers, I definitely do not regret my time spent here."
The Veterinary Surgical Mentorship Program in the college annually seeks out students with an interest in pursuing a surgical residency and a career as a board-certified surgeon. Students complete two-week rotations through the Lloyd Veterinary Medical Center including working in the surgical operating rooms, the Intensive Care Unit and canine rehabilitation.
The students attend surgical rounds where they are exposed to many different types of surgical cases. The mentorship also requires the students to conduct a research project. "The program looks at all the different aspects of what it requires of you to become a surgeon," Meiman said. "The primary goal is to expose us to much as possible so we can understand the training process and prepare ourselves to be good candidates for."
Meiman admits the first summer of the program she faced a steep learning curve. But the second year was a different story.
"It's a huge difference between the first and second year," she said. "I was a little overwhelmed at times my first summer but one of the students who was in their second year told me 'just wait until next year. It will all come together and start to click.'"
After her second year, the information Meiman was getting in the mentorship program clicked in such a fashion that becoming a surgeon is a definite possibility in her career path.
"I'm really thankful for having this experience," she said. "It gave me a lot of confidence and challenged me in many ways – I do believe I can use what I've learned to reach my end goal."
October 2016