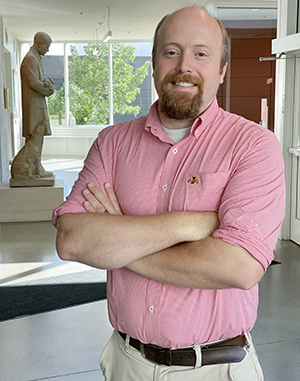 There may never be the perfect time to start a new job, but Dr. Marc Kinsley is certainly facing challenges as the new executive director of Lloyd Veterinary Medical Center (LVMC) that his predecessors didn't have.
"There are definitely many challenges facing veterinary medicine," Kinsley said, "and the significance of those challenges are maybe as high as we have seen in quite some time."
Kinsley and the LVMC aren't unique. Studies have indicated that one in five U.S. households acquired a cat or dog since the beginning of the COVID-19 pandemic. Those increased adoptions have translated into additional visits to their local veterinarian including appointments made at Iowa State.
Kinsley started his new position in January 2022. From day one, he has dealt not only with increased demand, but also the challenges of finding clinicians and technicians to treat these animals.
"There are limited veterinarians and technicians in the work force," Kinsley said. "Every private practice is having the same issues as we are – trying to meet the increased demand for animal care and everyone is being aggressive in hiring veterinarians as well as technicians.
"It's a double-edge sword because if we don't have enough staff to support our faculty, then we can lose our faculty, which would not allow us to continue to provide the level of patient care that the animals and clients in the State of Iowa deserve."
Even though this is the first time Kinsley has served in such a capacity (he was previously an associate professor of large animal surgery at Michigan State University's College of Veterinary Medicine with a specialty in equine surgery), he has hit the ground running and is looking to quickly meet the challenges the LVMC faces. He's worked hard to hire and retain veterinary technicians and will continue to support the clinicians on staff including increasing salaries for the hospitals' interns and residents.
He has authorized several equipment purchases which have dramatically improved the hospitals' functions. An "Unsung Hero Award" has been established to recognize staff members who have gone above and beyond the call of duty.
"One of the main reasons I took this job was that I was tired of seeing my friends constantly leave because they didn't feel supported," Kinsley said. "I could see things that weren't getting done and wondered 'why don't we do it this way?'"

At the LVMC, Kinsley now has that opportunity. "I like the challenge and thinking about things in a different way than I did when I was a faculty member," Kinsley said. "I want to look at the whole puzzle, see if we can modify one thing, and then determine how it not only affects our patients and clients, but our hospital and staff."
September 2022