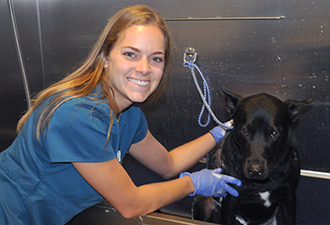 Once a Researcher, Always a Researcher
If Mattie Hogg would have written down the things she was looking forward to in college, being a part of a research project wouldn't have been on the top of her list.
She was introduced into the research field while she was a senior undergraduate student at Whitman College in Walla Walla, Wash.
"I had to be a part of a research project, write a thesis, and present and defend it in front of the entire biology department in order to graduate," she said. Something amazing happened along the way to graduation. Hogg started to enjoy research. "There is much responsibility, and my enjoyment of research grew as I began working with veterinarians and learning about the process of creating a hypothesis," Hogg said.
Hogg worked on a research project the summer prior to her senior year in her hometown of Minneapolis with equine veterinarians at the University of Minnesota. The project that whetted her appetite looked at Polysaccharide Storage Myopathy (PSSM) and its effect on North American horses. The muscle disease debilitates the horses that it affects until they are no longer able to work.
Hogg designed and conducted the study to determine whether increasing levels of Vitamin A could relieve PSSM symptoms. A subsequent paper on the study will be published this summer in Equine Veterinarian Journal.
Once a researcher, always a researcher. Hogg, now a 3rd year veterinary medical student at Iowa State University, is part of the College of Veterinary Medicine's Summer Scholar Program. The program introduces veterinary medicine students to research in a wide array of areas as they gain valuable perspectives on the roles played by veterinarians in biomedical and public health research.
As part of the program, Hogg and the other 30 summer scholars meet every few weeks to discuss their projects.
"It's wonderful to sit in that classroom and learn about their projects," Hogg said. "I'm amazed at how smart and driven my fellow students are. It's inspiring to listen to them and realize you aren't alone in what you are doing."
This summer, Hogg is working with Dr. Darren Berger, assistant professor of veterinary clinical sciences. The two are studying the residual antibacterial activity of four commercially available antimicrobial solutions applied to canine hair. In other words, they are determining if the shampoos inhibit bacterial growth on the hair coats of dogs.
Hogg has enlisted 24 dogs into the study and will bathe each dog once with medicated shampoo over a 10-day period. She will collect hair samples from the dogs to measure how the shampoo activity changes over time.
"This project not only allows me the opportunity to work in dermatology, a field I have always been interested in, but I get to work closely with and learn from Dr. Berger and other dermatologists," Hogg said.
Because of her previous experience in research, Hogg knows the frustrations that can occur during the process.
"There's a fine line between wanting to see results and having patience when you're not getting the results you want," she said.
"Regardless, I find research incredibly stimulating. I strive to have clinically relevant findings at the end of this project in the hopes of sharing that information with the veterinary community."
July 2017