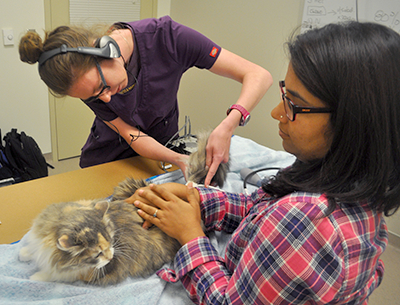 Not feline well?
Summer study looks at cat blood pressure
She doesn't own a cat. That's probably because her husband is allergic to them.
So what does Meghann Rosburg do during the summer between her first and second year in Iowa State's College of Veterinary Medicine?
"I evaluated 22 cats to see what effects the waiting room experience has on their blood pressure," she said.
Rosburg was one of 25 College of Veterinary Medicine students who spent their summer in Ames participating in the college's annual Summer Scholars Research Program.
The program introduces veterinary medicine students to research in a wide variety of areas including clinical medicine, animal science, public health, neuroscience and immunology. Students are teamed with faculty researchers for the summer and work on an active research project.
In Rosburg's case the research was looking at how a cat's waiting room experience can be improved. Visiting a veterinary clinic can be extremely stressful since cats are in an unfamiliar place and many times surrounded by barking dogs and different smells.
For Rosborg's study, she evaluated the participating cats on four different occasions, changing up the experience each time. While there weren't any barking dogs, sometimes the cats were covered in their carriers with a blanket. Other times they were kept in the waiting room for up to 30 minutes.
"We're looking to see if low stress handling techniques have an effect on the cats' blood pressure," she said. "Many of these techniques haven't been adopted by clinics and if it is proved to be useful, maybe more clinics would start doing that.
"Cats are extremely complicated creatures," Rosborg continued. "They don't understand what is happening and their owners, and veterinarians, many times don't recognize their behavioral moods."
Rosburg, who plans to go into small animal medicine after graduation, said the summer program gave her not only insights into research but also in working with felines.
"At first it was hard for me to get an accurate blood pressure reading," she said. "But at the end I got very used to it and smooth with my techniques.
"I'm more confident working with cats than I was before, which I will be able to apply later in my professional career."
September 2016