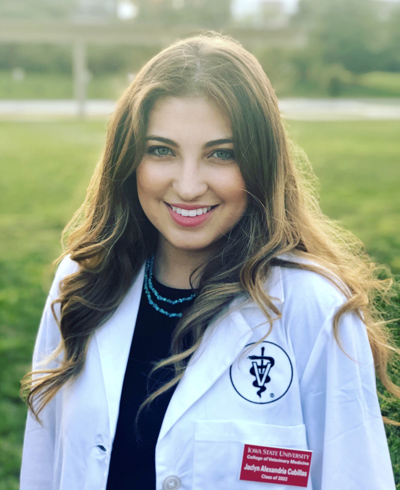 Scholarship Provides Support System for Recipient
Iowa is a long way from home for Jaclyn Cubillas.
But now thanks to a new scholarship in the College of Veterinary Medicine, the southern California native has a new support system in place.
Cubillas, a first-year veterinary medicine student at Iowa State, is the inaugural recipient of the Nemeth Veterinary Medicine Award of California. The scholarship was established by The Alexander & Eva Nemeth Foundation.
"Receiving this scholarship will allow me to focus on my studies instead of having to make time to work," said Cubillas. "Not only will I be able to work on my classes, the scholarship will help relieve financial stress on my parents and family.
"But one of the greatest benefits I have already experienced upon receiving this scholarship is the support system of the Nemeth Foundation. The foundation is composed of individuals who are cheering me on and since some of the board members are veterinarians, I will be able to network with them in the future."
The scholarship is renewable over the four years of veterinary school at Iowa State and is valued at $14,750 a year. The Nemeth Foundation will establish four, four-year scholarships at Iowa State over the next three years.
Scholarships recipients will be residents of California and will have demonstrated passion for the care of animals, while seeking to establish themselves as a premiere provider of veterinarian services in the community where they will reside after graduation.
"While I moved to Iowa and Iowa State to expose myself to a new environment, I would like to go back to the western part of the country, specifically, California, after graduation," Cubillas said. "I am interested in either a mixed animal practice or equine medicine.
"No matter what direction I go in, I want to learn as much as I can while I am here and I'm excited about the opportunities I will be exposed to."
The Alexander & Eva Nemeth Foundation seeks to transform the lives of families in the San Diego area through its Kindred Kottage initiative, which supports advances in human health, animal welfare and community progress.
September 2018