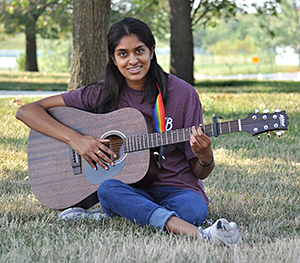 Music, dance, art. If there is an art there's a good chance Vida Hanchate has a passion for it.
Yet it wasn't always that way for the third-year veterinary student from Boston. When she was young, Hanchate says she was just "going through the motions."
"My parents sent me to an Indian Classical Dance studio in Boston when I was five," she recalled. "I started out loathing it because I thought it was something my parents were forcing me to do to connect to my heritage. And at that age, it simply wasn't 'cool.'" By the end of middle school however, Hanchate's perspective on the arts changed. She started to notice many of her classmates were being asked to do their graduation performance where a dancer performs on stage with a live orchestra for a couple of hours for their family and friends. Soon Hanchate's indifference of dance subsided and it became a passion.
"I realized that I would actually receive compliments from my guru and other dancers when I put in the effort," she said. "By high school, my love of dance had spilled into other dance forms I was exposed to – mostly hip hop but some ballet.
"I began to enjoy it so much and dance lost all its association with any parental pressure – it was all mine."
Dance camps in the summer became the norm. While an undergraduate at Boston University she studied at an Indian classic dance studio. She took formal ballet lessons and was on the college's dance team. She joined a professional ensemble.
But dance wasn't the only art Hanchate is passionate about. She played percussion in her high school concert and jazz bands. She started her own band with a few friends while in middle school. Since becoming a veterinary student at Iowa State, she has shared her music with friends and learned to play the guitar.
Word of her abilities reached Dr. Monica Howard in the College of Veterinary Medicine who asked Hanchate to perform at the college's 2020 virtual commencement ceremony.
"That was the first time I sang into a microphone and it definitely wasn't my best work," she said. "Nothing, besides maybe dance, gives me the same wonderful feeling that singing does.
"I can forget about everything that is going on in the world, especially school, and challenge myself to copy a run in a song or memorize choreography quickly. I absolutely know what it feels like to get lost in dance or in music. They both have such an acute effect on my mood and emotions and can bring me up, down, or wherever I want to be in a matter of seconds."

Dance and music may be Hanchate's primary passions, but drawing isn't far behind. She says she does a "fair amount of sketching," something she began in high school.

"When COVID hit I began sketching more because I had more free time," she said.

Free time isn't something many vet students have. Hanchate has to purposely make time for her passions.

"It has stuck with me, more or less, that when I pick up my guitar and look up the chords to a song with the intention of singing, I am truly doing that for myself," she said. "I don't see my love for the arts going anywhere, so I have a feeling that performing is just one of those things that I will want to do if I have the opportunity."
August 2020