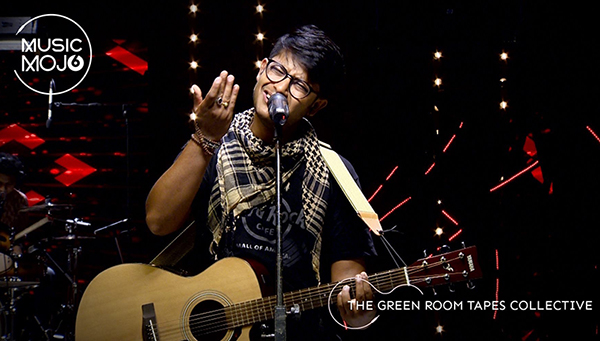 By day Debarpan Dhar is a virologist, working on a PhD in Dr. Cathy Miller's research lab.
At night (and on the weekends), Dhar's focus shifts to Indian classical music.
"My parents were semi-professional musicians," Dhar said, "and I learned from them at a very young age."
He found success at a young age in India. He was first runner-up in a nationally televised reality music show in middle school.
"I had few opportunities to make music a career at that time," Dhar said. "I asked myself if it was a sustainable option and decided to focus on science instead."
After earning undergraduate and master's degrees in microbiology in India, Dhar came to Iowa State for his PhD. And although he found a home in Miller's lab looking at viruses and their replication in cells they infect, he still has a musical calling. 
He is a member of the Green Room Tapes Collective that he and two friends launched in 2015. They started off capturing their random impromptu jam session videos, one of which gathered over a million views on YouTube. They have also put their original music on major digital streaming platforms. Examples of their artistry is available online at https://youtube.com/c/TheGreenRoomTapes.
Dhar has trained in Indian classical vocal music for the last seven years.
"Indian classical music is different from Western classical music and relies heavily on improvisation," Dhar said. "I'm incorporating elements from Indian classical music into my own original compositions.
"There's magic in improvisation and exploring something new. You create something you haven't practiced."
While he plays the guitar, Dhar considered himself a vocalist first and foremost.
"I'm a vocalist," he said. "I improvise by singing."
There's another connection Dhar can relate to as well.
"I think science and improv music are pretty much the same thing," he said. "You have to be creative in the lab as well and come up with something new. My music indirectly helps me to be adventurous in the lab."
And while his two passions are connected, Dhar knows where his future lies.
"Science is my profession," he said. "Music I'll do the rest of the time."
March 2022