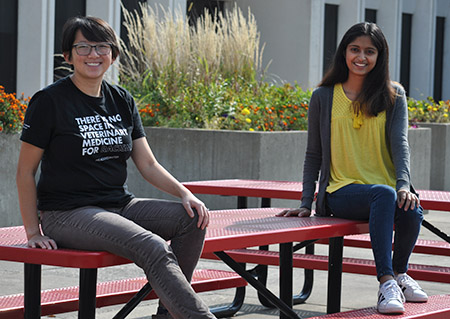 Editor's Note: VOICE has received the 2021 Iowa State University's Student Activities "Outstanding Commitment to Diversity Award." 
Six months ago, the student chapter of VOICE didn't exist in the College of Veterinary Medicine. But thanks to the efforts of a dedicated executive team, the student run organization is primed and ready to make a difference at Iowa State.
VOICE (Veterinarians as One Inclusive Community for Empowerment) is a national organization that seeks to increase awareness, respect and sensitivity to differences among all individuals and communities in the field of veterinary medicine.
That message is one third-year students Kelly Hewitt and Mithila Noronha want to bring to the students, faculty, staff and alumni of the College of Veterinary Medicine.
"Coming into this school you quickly realize that this is not as diverse a student body as other professional schools across the country," Noronha said. "Through VOICE we want to educate our peers to be able to have positive interactions with people who may be different from those they usually interact with."
The Iowa State chapter of VOICE was established this fall semester and even in the age of Zoom meetings, the group is planning to be active right from the start. During the chapter's first meeting, members will watch and discuss a podcast on minority women in veterinary medicine which features Dr. Monica Howard, director of student programs with the College of Veterinary Medicine and advisor to the new VOICE chapter.
VOICE is also doing a voter registration event in the college this fall with the purpose of registering students to vote in the upcoming general election.
There are no annual dues to be a member of VOICE and meetings and events are open to all veterinary students, faculty and staff. "We want to increase awareness throughout the college," Hewitt said. "Our voices can make a difference in the world."
And while the chapter's rapid beginning is impressive so has been Hewitt's role in the national group. She recalled reviewing applications for grants from veterinary students across the country to attend last spring's national AVMA's Leadership Conference.
"Many of the applicants listed being founding members of VOICE at their respective institutions," Hewitt said. "I had no idea what VOICE was so I googled it. "Since I was invested in VOICE's mission of celebrating diversity within our profession, I thought it would be really cool to start a chapter here."
Hewitt's initial involvement soon led her to become involved nationally with VOICE even though Iowa State did not have a recognized student chapter. Today she is one of VOICE's national co-presidents.
"I think being an outsider to the national group is an advantage," Hewitt said. "I hope to bring new ideas and help other local chapters at the national level."
Because of her national responsibilities, Hewitt recruited Noronha to help establish the Iowa State chapter of VOICE. Noronha spent the first two years of veterinary school studying at the University of Nebraska-Lincoln's 2+2 program before moving to Ames this fall to finish her degree. She is serving as president of the Iowa State VOICE chapter.
"This is a good year to start a VOICE chapter at Iowa State with all that is going on in this country with COVID and Black Lives Matter," Noronha said. "Hopefully people come away from our meetings with knowledge or perspective they can apply to their own lives."
September 2020