Thriving Under Pressure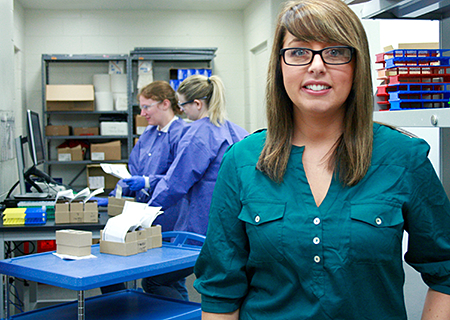 It didn't take long for Sarah Bade, research associate in the Veterinary Diagnostic Laboratory, to establish herself, according to Dr. Rodger Main, professor and VDL director, to be "a highly proficient, very conscientious and broadly competent technical staff and natural leader amongst her peers."
Since beginning with the VDL in 2008, Bade has continually assumed more responsibilities to the point where she is the team leader in the VDL's High Throughput Molecular Diagnostic Laboratory. This unit conducts PCR testing for a wide-array of pathogens of clinical and economic significance for livestock producers across the United States.
"Sarah's technical contributions, personal commitment to the continuous improvements of the molecular diagnostic methods and systems of executive employed, and relentless commitment to meet the often urgent and ever emerging needs of Iowa's and the nation's livestock industries have unquestionably played a critical role in the VDL's tremendous growth and emergence as the preeminent VDL in the country," Main said.
Because of these and other achievements, Bade will be recognized this fall with the Regents Award for Staff Excellence. She will be presented the award during a university ceremony in September.
In 2015 alone, Bade's Real-time Amplification and Detection (RAD)Unit of nine full-time employees conducted approximately 300,000 molecular diagnostic assays and generated over $8 million in revenue.
The RAD unit ensures same-day PCR test results. This is guaranteed regardless of caseload, staff absences or even delays in sample arrival.
"I work with a group of amazing people," Bade said, "and I'm sure all of them, including myself, would say the same-day turnaround puts a bit of pressure on us."
As the RAD team leader Bade leads her team in conducting the tests, interpreting the results and then releasing the results back to the clients. While her role is more administrative now than hands-on, Bade says she will step in a couple of times a week.
"It's usually only for a couple of hours, maybe half a day," she said. "Filling in for a full day is pretty rare for me."
Two springs ago, the VDL was swamped when the High-Path Avian Influenza Virus (HP-AIV) hit Iowa and the Midwest. The RAD Unit continued to meet the same-day turnaround despite case submissions being delivered at all hours of the day. Evening shifts and testing seven days a week suddenly became the norm.
"Several of us stepped up to make sure we got these critical results out," Bade said. "I won't sugarcoat it and say it wasn't tense. It was. Our workload increased dramatically.
"Thankfully for the industry and my team, this doesn't happen all the time, but when it does we are able to respond quickly and efficiently to get the job done and understanding what a huge impact animal diseases have on our clients makes our job important and worth doing well."