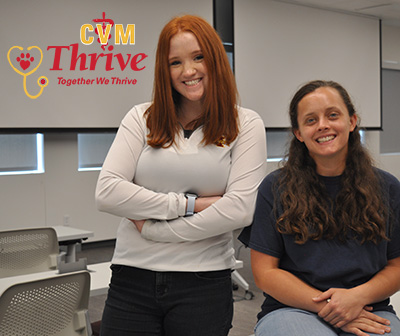 Second-year students Shannon Leary and Liz Kenney said their initial foray into vet school was, at times, a struggle.
"My first year was definitely a learning curve," Leary said, "and I eventually learned I couldn't focus on classes 100 percent of the time. The demands of being in a professional program can be overwhelming and there comes a time when we all need to step away from books and take care of ourselves."
"Looking back on my first year, I went weeks without thinking of my own wellbeing," Kenney said.
That's where CVM Thrive comes in. The new student wellness program in the College of Veterinary Medicine seeks to educate and motivate students about wellness resources while building a community of well-being.
Leary and Kenney developed the program this past summer while serving as interns in the CVM Dean's Office. Thrive is based on the eight dimensions of wellness – emotional, environmental, financial, intellectual, physical, occupational, social and spiritual.
The two vet students engaged faculty and staff throughout the College to participate by offering "badges" to students who complete a well-being activity, everything from horseback riding to officiating a sport – any activity away from the day-to-day grind of veterinary medicine classes.
A website (thrive.cvm.iastate.edu) has also been created for CVM Thrive with a listing of all of the faculty badges as well as a virtual cookbook with submissions from clinicians, students, faculty and staff. There is also wellness resources and mindfulness videos.
Students who finish the program will receive $10 gift cards from local restaurants and will be eligible for an Airpods giveaway in December. The more points students receive for participating in the faculty badges program will receive additional entries in the drawing.
Both Leary and Kenney have begun practicing what they are preaching these days. Now, instead of going weeks not thinking of their own wellbeing they take time for themselves.
"I'm constantly thinking about this now," Kenney said. "It's always in the back of my mind and I study a little harder initially so I can take some time off for myself."
Kenney regularly goes for runs (physical dimension) while Leary loves baking and sharing those treats (social dimension). The two hope over the course of this and future academic years, their fellow vet students will become as passionate about the program as they are. "I hope CVM Thrive changes the vet school culture," Leary said. "We have to remember that we
have to take care of ourselves before we can take care of our patients. I believe putting yourself first will make you a better veterinarian."
Kenney agrees.
"We all want to be good veterinarians," she said. "Thrive can help all of us become a good veterinarian."
September 2021
Learn More About Thrive
Website: thrive.cvm.iastate.edu
Youtube: https://youtu.be/u2H7VzE45LE