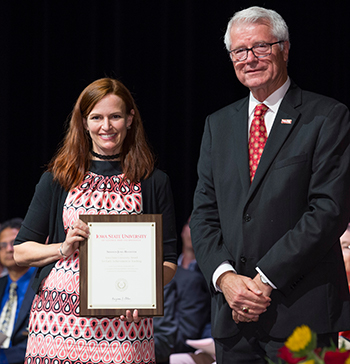 Passionate About Teaching
The task facing Shannon Hostetter was daunting.

She had never taught the course before and it was just a few weeks before the start of the semester. Throw in the fact the course meets every day, every week during the semester – this would be a challenge for any instructor.
But Hostetter wanted to teach the clinical pathology (VPTH 425) core foundation course. She was determined to become the instructor and her determination was rewarded when her department chair made a "big leap of faith in allowing a new part-time assistant professor to take on such a challenging core course.
"I felt passionate that a clinical pathologist needed to teach this class," said the assistant professor of veterinary pathology.
And she has more than made good on that belief. She polled the course's past instructors, gathering their teaching materials before setting about forming her own classroom lectures. She teaches VPTH 425 to this day.
"I rely on my instincts on how I would learn the material in my preparation of my lectures," said Hostetter. "Some days I divide the students into teams and they look at cases. Other days I give straight lectures."
Hostetter describes teaching as a very personal endeavor, one which she describes as "not one size fits all."

"I work to create a dynamic and interactive learning environment in which students learn as much from each other as they do from me," she says. "Students learn better and retain information longer when they play an active role in the learning process."
Past experience in the classroom also plays a role in how Hostetter interacts with students. And it's not the way you would imagine.
"As a student, I got more out of my courses when I was engaged with the instructor," she said, "and I was frustrated when there wasn't that engagement."
That can prove to be challenging with 145 students in a class. Hostetter knows not every student will find her engaging for whatever reason.
"It could be the subject or my teaching style or even the inflection of my voice," she said. "You can't make everyone happy.
"You can't accommodate every student's requests for a certain teaching style. I just try to engage them in the material as much as possible."
Hostetter must be doing something right. She has received three teaching awards in the College of Veterinary Medicine including the Zoetis Animal Health Distinguished Veterinary Teacher Award in 2015 and the SCAVMA Basic Sciences and Clinical Sciences Teacher of the Year in 2012 and 2016 respectively.
And this fall, Hostetter has been named a recipient of the Iowa State University Award for Early Achievement in Teaching. It's a just reward for preparing approximately 10 hours for each hour of lecture.
"Most days I look forward to teaching," Hostetter said. "I will admit there are some days I find it taxing to be on task, but I always enjoy it when I'm in front of a class."