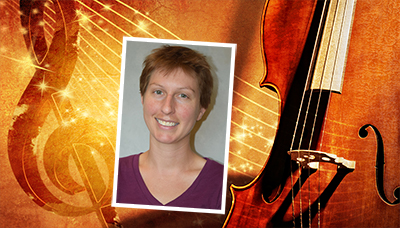 Today if you walk the halls in the College of Veterinary Medicine you are met with a constant drilling as construction crews work on several renovation projects.
It's a stark contrast to what you would have heard many days after classes ended or on the weekends. Then the sweet cello musings of second-year veterinary student Kelsey Nott would waft through the hallways.
Of course, that was pre-COVID-19. Today Nott plays her cello in her home. But Nott's beautiful music was a staple in the college before that.
"If there are a lot of people in the college I find a little nook to play," Nott said. "I'll go to the library and the locker room has really good acoustics."
Nott is a late comer to the cello – she started in high school. Originally a violinist, she moved onto the string bass before she found the cello.
It was a match made in musical heaven.
"Although I found the cello pretty late, I was well versed in other instruments," she said. "I just loved playing the cello and couldn't put it down."
Nott proved to be so good at the cello, she received a performance scholarship to the University of North Carolina. But midway through her undergraduate studies, she dropped her performance major, deciding to become a veterinarian.
The cello still was a huge part of her life. She performed with the Charlotte Symphony Orchestra before coming to Iowa State to study veterinary medicine.
"I do miss performing but the symphony is a huge time commitment," Nott said. "I would have to practice several hours, but I couldn't fit it into my schedule now with my veterinary studies."
In the end, Nott couldn't give up the cello. That's why she finds time to take it back up – whether it is in her home or in a locker room.
"I need some kind of outlet," she said. "I ride horses, but I can't ride in the winter.
"I'm absolutely addicted to playing the cello – I just keep going and going."
Music isn't Nott's only passion. As she mentioned she likes to ride horses and she is always learning a new language.
"I'm fluent in German and Spanish and proficient in French," she said. "Once you learn one langue, it's easier to learn a second. It is sort of the same way with learning to play the cello after I knew other string instruments."
April 2020