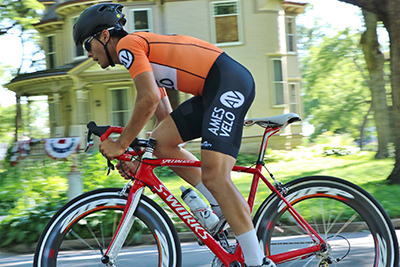 Five years ago, Trevor Arunsiripate had just moved back to his hometown in Ames. Neither veterinary medicine nor competitive cycling were on his radar.
Fast forward to 2020 and those two time-consuming activities dominate the second-year veterinary medicine student's days.
"I didn't grow up thinking I wanted to be a veterinarian," Arunsiripate said. "My parents let me figure out my career path, but veterinary medicine wasn't under my radar until I came back home."
It was a trip to a local veterinarian where Arunsiripate began considering veterinary medicine as a career. He recalled a conversation he had with the veterinarian when he took the family cat in for a check-up. The conversation soon led to Arunsiripate being told this was a profession "he could do." He soon dove into his new found academic passion with abandon.
The same could be said for his pursuit of competitive cycling. While living in Arizona, Arunsiripate would bike to school and work. Back in Ames, he wasn't familiar with the local biking community and he limited his "road time" to an indoor trainer.
It was another trip out into the community – this time to the local bike shop to get a new set of tires for his trainer – when he was invited to join the Ames Velo. The community-based cycling club proved to be the motivation Arunsiripate needed. Everything he said, just took off from there.
"I joined Ames Velo late in 2016 and competed in the last two races of the year," Arunsiripate said. "I was completely hooked after that."
Competitive cyclists are rated and compete based on abilities. There are five categories a cyclist are slotted in and Arunsiripate started his career at the bottom in Category 5. He spent his first year with Ames Velo trying to be a competent bike handler first and a competitor second.
Arunsiripate says there are three components that competitive cyclists must focus on – fitness, bike handling and the mental fatigue a long race brings to the cyclist. By mastering these areas, Arunsiripate worked his way up the ranks and by 2019 he was competing in Category 2.
And it's easy to see how he accomplished that. After winning the Iowa state Category 3 state championship in 2018, the following year he competed in the 11-stage, Tour of America's Dairyland (ToAD) race in Wisconsin, also in Category 3. He finished in the top three in numerous stages before he won the final stage of the omnium in a sprint to the finish line. He took second place in ToAD at the conclusion of the 11-state, 11-day event.
"I excel at the final sprints," he said. "I want to be in a position to sprint to the finish line. Finding out how much I can push out of me in those last 100 meters is exhilarating.
"Cycling is all about staying focused at all times. You are always concerned with what your best position is in the peloton, where you don't want to waste a lot of energy." Arunsiripate has goals. Although his 2020 cycling season was disrupted by COVID-19, he wants to continue competing. But as he moves through his veterinary medicine education, that goal may be more difficult to maintain.
"School is my number one priority," he said, "but I still want to continue to compete in cycling. "Both cycling and veterinary medicine are journeys for me. At this point, I don't think there will be a limit to what I can and want to accomplish."
September 2020