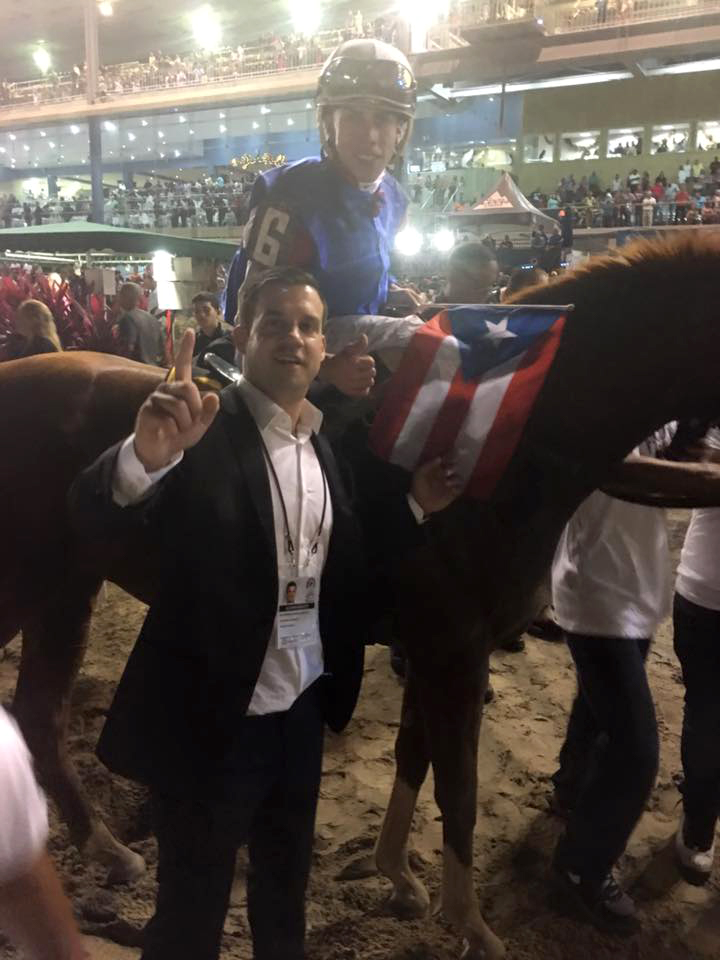 Horses Are in His Blood
Horses are in Dr. David Suarez-Fuentes' blood. He grew up around them. As an equine surgery resident in the College of Veterinary Medicine, he works with horses, day in and day out.
And one of the family businesses in Puerto Rico is horse racing.
Yeah, horses are in his blood.
"I was fortunate that the family I grew up in was a part of the horse industry," he said. "My attachment to horses began when I was very young. I wanted to be a veterinarian since I came into contact with horses as a child."
At a young age, he witnessed the return to form of many of his family's Thoroughbred racehorses. One filly in particular, Coordinadora (PR), underwent carpal arthroscopy four times in her career and each time returned to the track, even winning the GI Caribbean Ladies' Classic for Puerto Rico, the most prestigious stakes race for fillies as part of the 2004 Caribbean Racing Series.
"At a young age, it became clear to me that equine surgery was the career path I wanted to pursue," he said. "I've used that passion to be successful, not only as a veterinarian, but as a horseman."
Suarez-Fuentes recently had a series of events where his work as a veterinarian, researcher and horseman intersected with a large degree of success.
"Everything is coming together," he said. "I can see the light at the end of the tunnel."
First came last summer when he was part of a team of Iowa State veterinarians and veterinary technicians that performed a highly unusual surgical procedure on a two-month-old foal that removed an abscess which took up almost 20 percent of the left side of the filly's brain.
The foal's chances of survival were small but due to the efforts of Suarez-Fuentes and the other members of the surgical and recovery team, the filly not only survived, but is thriving.
While the surgery was unusual on such a large animal, Suarez-Fuentes is constantly looking for novel surgical techniques in research literature. His relentless work in this area recently paid off with him receiving the Mark S. Bloomberg Memorial Resident Research Award from the Veterinary Orthopedic Society (VOS). The award recognizes outstanding resident abstract submissions to the scientific program.
Along with the award, Suarez-Fuentes had three abstracts selected for presentation at the VOS meeting, including his Bloomberg Award-winning presentation, "Comparison of Outcome Following Semitendinosus Tenotomy Performed Under Standing Sedation Versus General Anesthesia for the Treatment of Fibrotic Myopathy Horses." He is the fourth resident from Iowa State to receive the award and the first in more than a decade.
He will also present three other novel projects at the Veterinary Endoscopy Society meeting held in June in Mexico. 
"I strongly enjoy the opportunity to investigate novel ideas and modifications of existing techniques for surgical procedures," he said. "But it is the ability to meet, work and learn from other faculty members across various departments and institutions, along with sharing a passion for research with veterinary students, that makes research rewarding for me."
And if that wasn't enough recognition, he was present in late 2016 when one of his family's race horses Arquitecto (PR) won the prestigious GI Confraternity Cup as part of the Caribbean Racing Series representing his racing stable and native home Puerto Rico.
"One of my goals is to learn as much as I can to help the racing industry in the Caribbean," he said.