Successful Training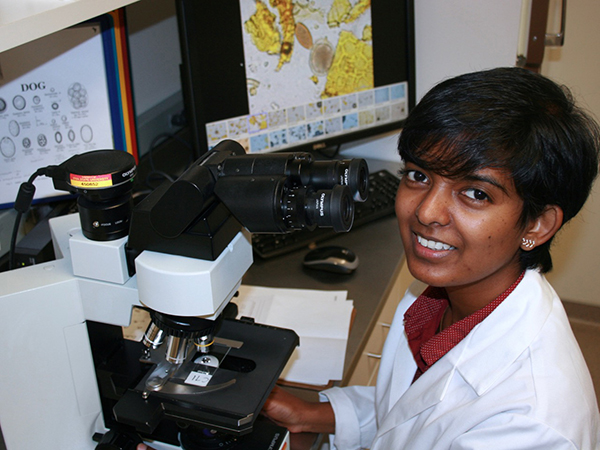 A new parasitology residency training program was established two years ago in the College of Veterinary Medicine with the goal of training graduate veterinarians in parasitology research and diagnostics.
Iowa State is a sponsoring institution for the National Center for Veterinary Parasitology (NCVP), with funding provided by the NCVP for supporting residents.
The ultimate goal of the program was to prepare students such as Dr. Jeba Jesudoss Chelladurai for board certification from the American College of Veterinary Microbiology (ACVM).
Mission accomplished.
Chelladurai was the first trainee in the program at Iowa State, which is one of the few schools in the nation to train parasitology residents. This past fall, Chelladurai was one of the individuals who took the test for board certification and passed on her first attempt.
"When I got the results, I was really surprised," Chelladurai said. "It was a tough exam."
She praises Dr. Matt Brewer, assistant professor of veterinary pathology, who directs the Iowa State training program. Two years ago, he received a $200,000 grant from the NCVP to initiate the training program at Iowa State. Chelladurai was the school's first recipient of the residency.
Chelladurai said three elements to the training program helped prepare her for board certification. Through a "journal club,' Chelladurai read articles – "lots of articles" – that proved to be extremely helpful.

"Because I read all of these articles, I knew what was happening in the field of parasitology," she said. "It was also very useful to observe the specimens that came through our lab and Dr. Brewer made sure I was involved with the cases.
"This way I was able to keep in touch with the ongoing research in the field."
Chelladurai says, in addition to the training program, her past educational experience helped make her a successful ACVM exam candidate. This includes graduating at the top of her veterinary class at Madras Veterinary College in India and earning a master's degree in microbiology from North Dakota State University.
Her experience has also reinforced her goal of continuing in academia once she graduates with her PhD.  
"There's always something new to research," she said. "There are new cases and parasites to see."
January 2019