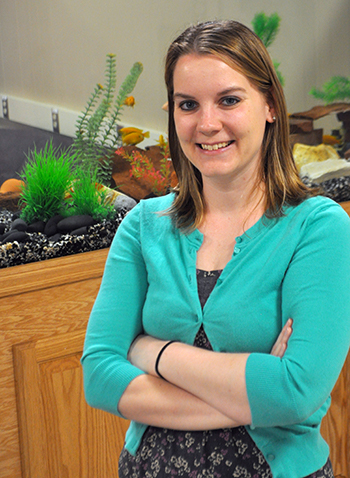 One Fish, Two Fish, Gold Fish, New Fish
Walk into Tania Roos' apartment in Ames and you won't find a fish in sight.
No giant aquarium or even a small fish bowl with a goldfish in it.
"I did have a Beta fish named Fred when I was an undergraduate in Minnesota," the third-year veterinary student said.
These days Roos is content to focus her aquatic efforts on the fish tank in the College of Veterinary Medicine's Fish Tank Lobby. That's no small task. After all she has over 80 Lake Malawi African Cichlid fish to take care of with more on the way.
Roos, who has an extensive background working large public aquariums in both Minnesota and Florida, designed the new layout of the tank. Prior to studying veterinary medicine, Roos worked at Sea Life Minnesota Aquarium near Minneapolis, MN and also at the Mote Marine Laboratory, a not-for-profit marine research organization in Sarasota, FL.
She started out working with general fish husbandry in Minnesota, before transitioning into sea horse conservation programs, managing Mote's sea horse laboratory. Roos also served as the national vice-coordinator for the Species Survival Program, focusing on conservation efforts for vulnerable or endangered fish species.
"Aquatic veterinary medicine initially never appealed to me," she said. "Before accepting my initial internship at Sea Life, I really didn't have any prior experience with aquatic life. But after several years in the field combined with my seahorse work with the Mote Marine Laboratory, I discovered I loved it."
The internship turned into a part-time job, which morphed into full time and she fell into an unlikely career path.
"I really enjoyed the challenge of working with fish and becoming involved in the multiple areas of the industry including conservation, health care and education," Roos said.
It was also at Mote where Roos developed an interest and flair for designing fish habitats.
"The first time I designed a one, I couldn't get it right," Roos recalled. "You can't just take an empty tank, plumb it together and then plop a bunch of fish in. You have to look at what is appropriate environment for the species you are using."
In the latest rendition of the fish tank in the CVM's Fish Tank Lobby, Roos created a new layout and look for the 350-gallon tank. She worked with other students and members of SCAVMA to completely buff the tank and maintain the ecosystem.
"I wanted to design a multiple level system for not only the fish, but one that would be visually appealing to visitors," she said. "The Fish Tank Lobby is a focal point of the college and I believe the design not only will engage the visitors but the fish as well.
"This project has been a great experience and teaching tool for students at the college, without their continuous help and support the tank could not continue to be a success.  I am so thankful for the student interest and dedication that has arisen from this project and sincerely hope to garner even more interest in next years' incoming class"
The Lake Malawi African Cichlids, which were donated by Dr. Karl Kraus and Dr. Bonnie Hay Kraus in the Department of Veterinary Clinical Sciences, have hide-outs in rocks and empty spaces to shelter and dominate.
Visitors to the Fish Tank Lobby can not only see the adult fish who have taken up residence there but dozens of others – babies just making their way into the world. Future inhabitants of the tank will be added in the early fall from donations from the Blank Park Zoo.
"This will be a self-sustaining, multi-age population," Roos said. "Hopefully it will be my legacy to the college."
May 2017