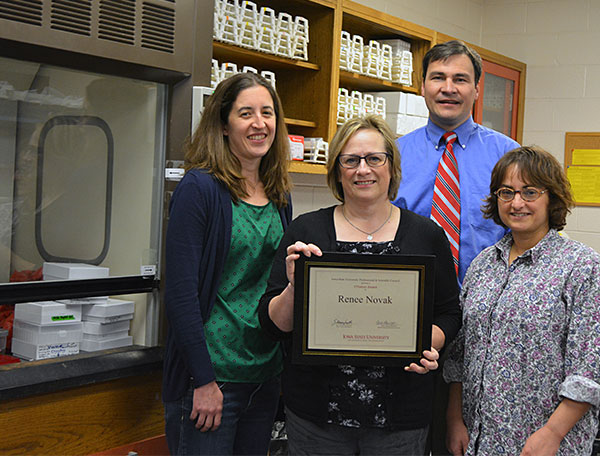 Renee Novak CYtation Award
Renee Novak, program assistant in the Pharmacology Analytical Support Team (PhAST), has been recently recognized by Iowa State University with its P&S CYtation Award.
Novak's work in preparing the PhAST section for International Organization for Standardization (ISO) 17025 standard accreditation was specifically mentioned in her award citation. The ISO 17025 standard is a quality standard used internationally by testing and calibration laboratories. Accreditation to this standard by an authorized third party accrediting body is an example of how the PhAST group formally demonstrates its technical competence to perform certain testing.
"What Renee proposed for the PhAST section is quite rare among peer veterinary diagnostic labs and had never been attempted before at the ISU VDL," said Kelly Boesenberg-Smith, quality assurance program manager at the VDL.
Boesenberg-Smith and fellow nominator Mia Papastavros, postdoc research associate, write that Novak relentlessly and enthusiastically completed all the necessary steps for accreditation.
"In addition to completing an incredible number of varied tasks on her own, Renee identified each person's role and provided valuable knowledge, guidance and encouragement to everyone involved," Boesenberg-Smith said. "When things seemed difficult or even impossible, her positive attitude and determination allowed the section to stay on schedule and make impressive progress."
The accreditation was granted in September 2015 by the American Association of Laboratory Accreditation (A2LA) after a two-day on-site assessment that involved a review of the lab's quality management system and PhAST's competence to perform specific testing in compliance with the ISO 17025 standard and A2LA's Competition Animal Drug Testing Program Requirements. Not all testing PhAST does is ISO accredited and individuals may contact PhAST for specific listings.
Iowa State's P&S CYtation Award is designed to recognize individual staff members, particularly those who might not otherwise receive recognition for outstanding work that has been done within the past year.
June 2016