Skin Doctor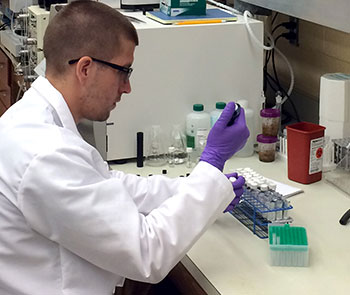 "I guess I just like gross stuff."

That's as good as an explanation of any as to why Zach Cochrane has gravitated to study and treat skin diseases. First it was as a dermatology technician at a Phoenix-area veterinary clinic. Now this summer, the third year veterinary medical student is on a research project led by Dr. Darren Berger, assistant professor of veterinary clinical sciences.
Zach is participating in the annual Summer Scholars Research Program in the College of Veterinary Medicine. The program introduces veterinary medicine students to research in a wide variety of areas including clinical medicine, animal science, public health, neuroscience and immunology.
Ironically this isn't the first time Dr. Berger and Zach have worked together. The pair were part of the Phoenix-area veterinary clinic staff a few years ago. Zach, who completed his undergraduate degree at Arizona State University, was in the process of applying to vet school and at Dr. Berger's urging, applied and was accepted to Iowa State.
Their paths crossed again at Iowa State where for the past several months, they have discussed a summer project they could work on together. The Summer Scholars Research Program was the perfect way of making that happen and became a reality after being awarded a $5000 Morris Animal Foundation grant.
The pharmaceutical research study focuses on the testing of the drug Milbemycin. This anti-parasitic drug is used to treat heartworms, fleas and other canine and feline endo and ectoparasites.

"This particular drug is very important," Zach said. "The most commonly used drug for skin mites (Ivermectin) can have highly toxic effects in specific breeds of dogs, so Milbemycin is used as an important and less-toxic alternative in these canine subsets."
The study will look at how accurate and precise the generic medication is made when prepared by a compounding pharmacy. The research team will also test the drug to determine its long-term stability by assessing the rate of degradation of its active ingredient.

Zach's ultimate goal once he has completed veterinary school is to focus on a specialty and sit for veterinary board certification. With all of his experience and training in skin diseases, it would appear dermatology would have the upper hand, but the Arizona native has other interests as well.

The Summer Scholars Research Program is another step on his road to determining what specialty within veterinary medicine he will elect to pursue.

"Since I really want to specialize in a specific area of medicine, I need to be as up to date as possible in these fields," Zach said. "I need to not only understand know how to interpret and write a scientific paper, but I need an understanding on how to conduct the research itself."

"Being a part of a research project gives me that much more experience."
October 2015