---
I am currently looking for someone to take over my lease at Copper Beech Townhomes at 1717 S. Grand Ave. Ames, IA. This lease would start August 17, 2017 (but this can be negotiated if desired) and end July 31, 2018. These rates are decreased from what Copper Beech is currently offering!
2 BD/2.5 Bath townhome = $635/month (per room) + $4.50/month utility fee + $11.95 insurance = $651.45
3 BD/3 Bath townhome = $550/month (per room) + $4.50/month utility fee + $11.95 insurance = $566.45
3 BD/3 Bath apartment = $565/month (per room) + $4.50/month utility fee + $11.95 insurance = $581.45
4 BD/4.5 Bath townhome = $535/month (per room) + $4.50/month utility fee + $11.95 insurance = $551.45
The rental rate includes: fully furnished apartment, internet/cable package, utilities (water, sewage and trash), electricity credit of $25 per occupied room per month and free parking. There is a clubhouse on site with a 24hr fitness center, tanning beds, game room, pool and library with free printing and coffee/tea service all day. The property hosts several events each month with free food, prizes and games that are free for residents to participate.
Contact: melissaw@iastate.edu
---
$810 / 1br - 800ft2 - 1 BDRM, 1 BATH -- $810 INCLUDES ALL UTILITIES, STREAMING TV, & WIFI
828 Grand Avenue, Ames, IA 50010 (Old Town)
1BR / 1Ba 800ft2 available now
cats are OK - purrr no smoking laundry in bldg off-street parking
Available immediately. A beautiful 1 Bdrm, 1 Bathroom apartment on Grand Avenue. $810 rent includes everything you could want....Electric, gas, central air/heat, streaming tv with Sling TV, internet, sewer, water, a private entrance in back, off street parking for one car, private laundry in basement, and storage space in basement if needed. Other amenities include a large double closet in the bedroom, two storage closets, CyRide bus stop on the corner, Fareway grocery shopping only a couple blocks away, and Main Street shops and nightlife five blocks away. Cats are welcome. Home will be landlord occupied. Non refundable pet deposit of $200. Security deposit and first month's rent (totaling $1620) due before move in. Prior references are a must and a background check will be done. We can show the apartment by appointment. Email back to show your interest, get an application, and schedule an apartment walk through appointment.
Contact Anthony at razzlechef@gmail.com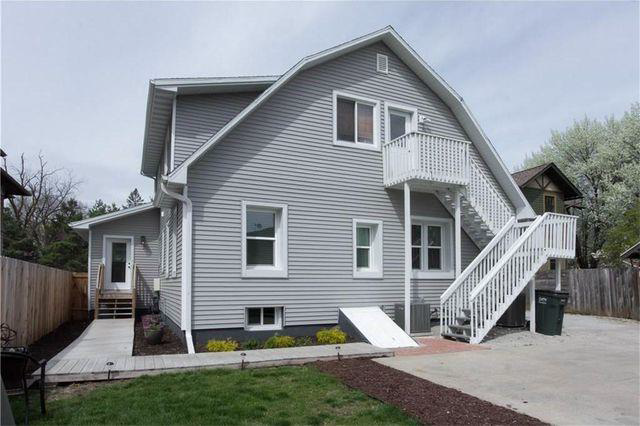 ---
Added: March 27, 2017
Bedroom available (in a house) for the summer with the option of extending the lease into the next school year (August 2017-August 2018). The house is furnished (except for the bedroom), has stainless steel appliances, and laundry on the main level. Rent is $350/month with utilities averaging around $100 each per month.  Unfortunately, is no longer pet friendly. Move in date for the summer is negotiable! E-mail or text me with any questions or if you want to set up a time to see the place. Mel Johnson (mj2@iastate.edu) or 424-235-9239.

---
Sublease for Summer and Option for Renewal
Added:  March 27, 2017
2 bedroom/2 bathroom apartment for sublease
Crown Point Apartment Complex
2 bedroom, 2 bathroom apartment available for sublease from June 1st-July 31st (available to renew contract in August for a one year contract). 
Free Internet Access (12Mbps, upgradeable to 100Mbps)
Free cable included
Free membership to Ames Racquet & Fitness
Free tanning
24-hour emergency maintenance
Dishwasher & garbage disposal 
Washer & dryer in unit 
Pets allowed (some restrictions may apply)
$880/mo
Contact Brianna Whiting (bwhiting@iastate.edu).
---
Apartment for Rent
Added: March 27, 2017
Spacious 1 bedroom/1 bathroom apartment available for summer sublease starting May 1st, 2017. 
 
$610 per month
Start date negotiable
FREE Mediacom Cable/high speed internet (never had any problems)
Great location - across the street from West Hy-Vee, near restaurants and CyRide stops
Quiet environment, never see or hear neighbors
On-site laundry, right next door to apartment
Large living room and spacious bedroom with walk-in closet
Lots of natural light with sliding glass doors 
Private patio 
Ample off-street parking
Cats welcome! $30/month, NO PET DEPOSIT! 
Email caitlin.lattimer@gmail.com with questions or to schedule a showing!

---
Room for Sublease for summer
Added April 12, 2017
Private bedroom with private bath available for summer from May 8th to first week of August. The room is fully furnished with a bed, bookcase, desk, dresser, nightstand, and a spacious closet. Rent is $437 a month, with utilities generally between $15-$18 a month. Wi-Fi provided. There is a garage and a pool on site with laundry in the building. Kitchen has microwave and dishwasher. Email me at almacke@iastate.edu if you're interested and I can set up a tour.
---
Sublease Apartment
Added: April 12, 2017
I am subleasing my unit on 721 Crawford come May as I will be leaving Iowa and pursuing work elsewhere after graduation. If you could please include that a unit will be available sooner than 8/1/17 on the Crawford property that would be greatly appreciated. Let me know if I made this confusing. Thank you for your help. 
Loren Ortiz  lortiz@iastate.edu
---
Apartments to Rent
Added: April 12, 2017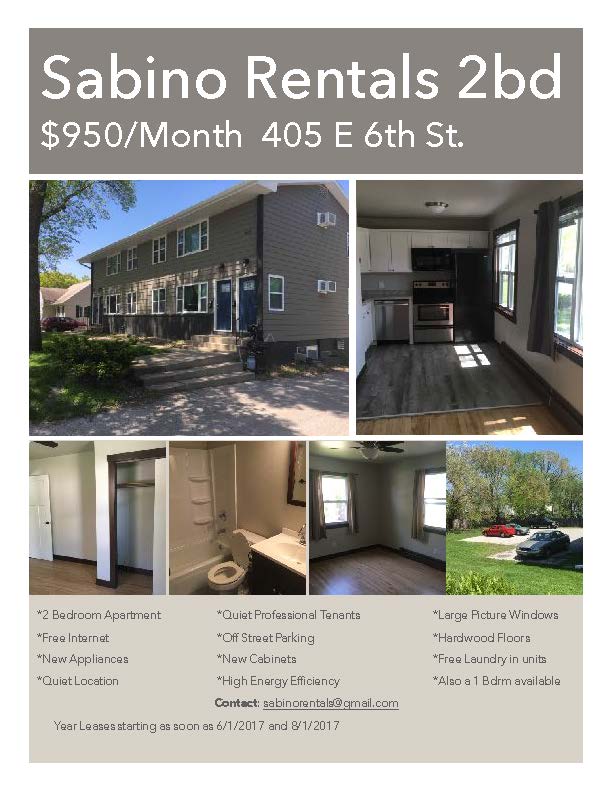 ---
Apartments to Rent
Added: April 25, 2017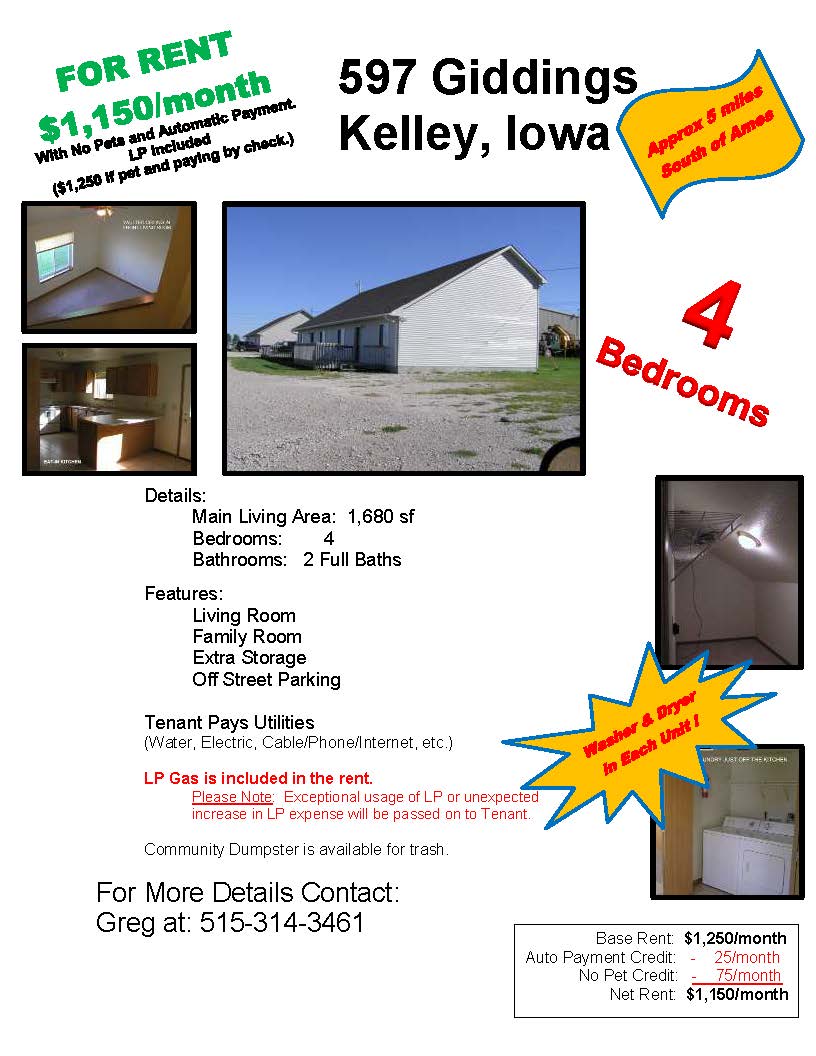 ---
FOR RENT–2 BEDROOM HOUSE
2-bedroom ranch house, 2 car garage, full basement with washer/dryer, off street parking, fenced back yard, quiet neighborhood, easy access to ISU, I-35 & highway 30. 
Available June 15, 2017 - $1,050/month
Call 515-290-5186 for additional information
Updated: April 25, 2017