May 7, 2021
3 p.m.
Hilton Coliseum
Ames, IA
Livestream of ceremony will be available.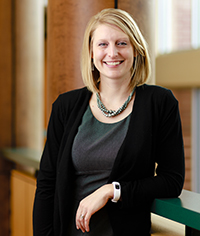 Speaker: Dr. Kristen Obbink
Dr. Obbink has a BS in Zoology and DVM from Iowa State University, a master's in public health (MPH) from the University of Minnesota. She is also a Diplomate of the American College of Veterinary Preventive Medicine. In addition to working in private practice, she previously served as the State of Iowa's enteric disease epidemiologist and coordinator for food and feed emergencies. In 2015, Dr. Obbink came to Iowa State University where she has served in multiple roles including most recently as the Acting COVID-19 Public Health Coordinator. Dr. Obbink currently serves as a Lead Public Health Veterinarian with the Center for Food Security and Public Health at the ISU College of Veterinary Medicine and is active in organized veterinary medicine at the state and national levels. 
For more information, contact:
Mindy Schminke
2270A Vet Med
294-0772
E-mail: schminke@iastate.edu

Graduation Gifts
Visit our College of Veterinary Medicine Gift Shop