Poultry Extension at Iowa State University is pleased to offer three separate "Poultry Medicine Workshops" to be held in Denison (Western IA), Ames (Central IA) and Central City (Eastern IA). Each is one-full-day program of lectures and a wet lab in the afternoon. The program is carried out by Dr. Mohamed El-Gazzar and Dr. Yuko Sato ISU Poultry Extension Veterinarians, in addition to other instructors with diverse poultry expertise. The purpose of the workshops is to introduce veterinarians in all kinds of veterinary practices, including small animal and mixed animal veterinarians, to poultry medicine. Noncommercial and backyard poultry owners are a growing and underserved population that require more veterinary involvement. The program is designed to provide veterinarians with the necessary knowledge, skills, and resources to encourage them to provide veterinary services for poultry clients.
Choose your preferred date and location.
Limited number of spots available.
October 1
Denison Livestock Auction
501 North 9th Street
Denison, Iowa 51442
October 2
College of Veterinary Medicine
1800 Christensen Drive
Ames, Iowa 50011-1134
October 3
The Linn County Fair Grounds
201 Central City Road
Central City, Iowa 52214
Priority will be given to licensed veterinarians in the state of Iowa who did not attend previously.
---
Program
8 hours of CE will be granted if participants successfully complete the program
7:30-8:00: Registration
8:00-8:30: Introduction and Pre-evaluation
8:30-9:30: Basics of Poultry Infectious Diseases Diagnosis
9:30-10:30: Animal Diseases Diagnostic Laboratory Services
10:30-11:30: Common Diseases in Noncommercial Poultry
11:30-12:30: Lunch (provided)
12:30-1:30: Treatment and New Regulations
1:30-2:30: Basics of Immunology and Vaccination against Poultry Disease
2:30-3:30: Individual Avian Medicine and Surgery
3:30-5:30: Poultry Sampling and Necropsy Session (wet lab)
5:30-6:00: Discussion and Post-evaluation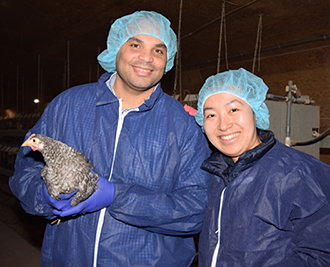 Registration Information
Registration Form
Registration Deadline: Sept. 27
Cost: $30 to cover lunch/refreshments
(Unable to accept payment by credit card)
Check Payable to:
IOWA STATE UNIVERSITY

Mail registration form and check to:
Mohamed El-Gazzar
2446 Lloyd Veterinary Medical Center
1809 South River Drive
Ames, IA  50011-3619
E-mail: elgazzar@iastate.edu
Phone: 515-294-1763