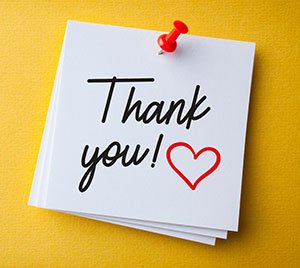 Words of appreciation, encouragement and gratitude from clients who have received care at Lloyd Veterinary Medical Center during the COVID-19 pandemic.
You are all rock stars! Keep up the great work! – Kristen Obbink
THANK YOU! – Eleanor Field
I have been pleasantly surprised how easy it has been to have my baby Jill seen by Dr. O'Leary during this crisis!! Thanks for taking such care of us! – Tami Anderson
We had to take our cat to the small vet hospital two weeks ago when she got very ill. The staff came out to our car, wearing a mask, to retrieve our cat. While we were not allowed inside due to COVID-19, the doctor called us frequently with updates and questions. Our cat was treated very well and given appropriate treatment in the hospital and medication for us to administer at home. I was very appreciative of their efficient service during this difficult time. Thank you, Drs. Kussin and Bertram! Your care for our cat was much appreciated. – Natalie Robinson
We really appreciate your care of our sick kitty, Charlie. Although we chose not to take extreme measures to save his life, your staff was knowledgeable and caring. – Marilyn Carter
Thank you for being there when we needed you most. Thank you for your compassion and caring hearts. We miss Sally every single day and we don't know what we would have done without you there. Please stay safe and healthy. – Rhonda Pecenka
In March, our Sophie has a big emergency and we had no idea if she would make it. You all saved her life and even though we had no physical contact with you, we were kept informed every step of the way. Sophie is back to her normal self and healthy. Thank you! Keep up the amazing work you do! – Jennifer Carpenter
Our family (especially our Min-Pin GUS) appreciate EVERY member of the LVMC Staff so much!!!!! We were there for rehab the day things were officially locked down and the staff did such a great job trying to adjust to new protocols while trying to keep everyone happy (which wasn't an easy task). Your work is so valuable and we really don't know what our family would look like without the entire LVMC staff! – Kristten Buttermore
Thank you so much for the care and concern you showed for Minnie. The almost immediate call back and follow up from Dr. O'Leary was amazing! EVERYONE we interacted with has been so nice and compassionate. Thank you for all you do!! We are so lucky to have you in Iowa. (Whispers—we enjoyed our adventure at Iowa State.) – Gina Rogers
You have LOVED on our sweet baby Carl!! You have kept us updated while suffocating in a face mask!! We now know WHY you are considered the BEST of the BEST ❤️❤️THANK YOU ❤️❤️❤️❤️❤️ - Pam Baker
EVERY ONE of the people involved in Benny's care has been wonderful. Thank you to the cheerful and helpful voices from doctors, pharmacists, and front desk staff on the phone, everyone who runs out to the car rain or shine with prescriptions or my dog, and for the extra love and attention you always give Benny. We don't have to see your smiles to feel them. - Eden Gens
First and far most we hope that you are staying safe and healthy. We live our pets just like children and when they are sick we want them to have the best of care. We're so thankful and appreciate the care you give to each and every pet. Your dedication being there during this pandemic shows the love you have for animals, but also the love you have for the pet owner. Unfortunately our dog Harley Passed away on March 26th we miss him so very much. But we are very grateful for the care you all gave him during his visits there. Please take care and take care of each other. - Brenda & Brad Kenney
Thank you for examining Kelly! We lost a golden retriever, Campbell, to a cancerous tumor that looked benign, and were so grateful that you were willing to check Kelly out even during the pandemic and put our fears to rest. This was greatly appreciated! – Margaret Reed Holmgren
You are an awesome team of expert professionals that I have so much faith in to to care of my beloved dog Bobo. Thanks so much for immediately seeing him last month and providing care and medications that have made him fully well again!
Your dedication and care are immensely appreciated, more than words can convey! – Sam Sivaskandan
Thank you to the team who looked after Gage this past weekend. It was a very difficult time for us, and we greatly appreciate Dr. Dawson and Dr. Sherman's help through this tough time. Thank you Dr. Sherman for helping us with our final wishes for Gage. He is truly missed. – Wendy Loving
Thank you for saving our Willie's life. You guys are the best team ever. – William and Kaoru Duerr
Thanks to all of the staff and students at ISU veterinary hospital from Himalaya, Louie, and Jim and Gena Black. – James E Black
I am forever grateful for your compassion and expertise. You gave my fur baby excellent care that I will never forget. Although I did not get to meet any of you in person, due to COVID 19, you all made a stellar first impression on me that I will share with other pet parents. I highly recommend Lloyd Veterinary Medical Center and we are so very fortunate to have such caring and knowledgeable people in our community. Thank you all for everything you do!!! – Teresa Wullenwaber
In these trying times, please accept our thanks and best wishes. Our dogs have always been in the best hands with you, Piet, Bubu, and Chelsy - and we hope that we can add our new Jack Russell mix Mimo to this list very soon. Our dogs have so much benefited from your expertise, knowledge, and dedication to the profession - neither Piet nor Chelsy would have had such a wonderful and long life without you being there for them. Please hang in there, and we are looking forward to seeing you in the new normal. – Alicia and Wolfgang
Our 6 yr old cat Milo was referred to you by our vet here in Nevada when the tests he could run were not able to isolate what was causing his general decline. He spent several days there with all y'all (and we missed him TERRIBLY!) and a diagnosis was achieved and a treatment plan started. He came home to us with a shaved belly, mittens on his front paws from the shaved legs, and a bag full of meds. That was about 6 weeks ago. Milo is almost done with his last med, has regained 2.5 lbs of the 3 lbs that he lost (nearly 1/4 of his normal weight), and is happy, healthy, and back to his normal playful self. Still has a bare belly & legs, though! Your diagnostic skills saved our cat, and we thank you for that! – Kerry Culp
Thank you team Onco, ECC and Radiology for taking care of Grover and Kit! – Jamie Kopper
Thank you for the expertise and kindness used while treating Daisy's glaucoma! – Margaret Thomson
I have two roommates who have been the guest of dermatology, orthopedics, and ophthalmology so far. The reception staff, the students, the techinections and the doctors in all the departments we have needed assistance in have shown us the greatest kindness and professionalism in the care of my babies. Thank you, Thank you all! – Michael Gigstad
About two weeks ago, our little Chihuahua, Raffie, was in your care. We were deeply concerned as his health was declining rapidly. It was unsettling to leave him for several days and not be able to visit. It was so helpful to hear from his doctor daily with detailed updates. Raffie is gradually improving and we are very grateful for everyone at LVMC for caring deeply and doing excellent work! – Andrea Westmeyer
Thank you very much for keeping working!!!!! My dog had a eye issue and was examined by the ophthalmology team. It made me feel calm, safe and sure that it was fine. As someone that had recently moved to Ames it was awesome!!!!!!! Thank you very much ISU Veterinary team to keep working. – Jorge Tie Costa Reis Hamond​
Thanks to everyone for their kindness during a very stressful time caring for my cat. Your hard work was greatly appreciated. – Dan Stessman