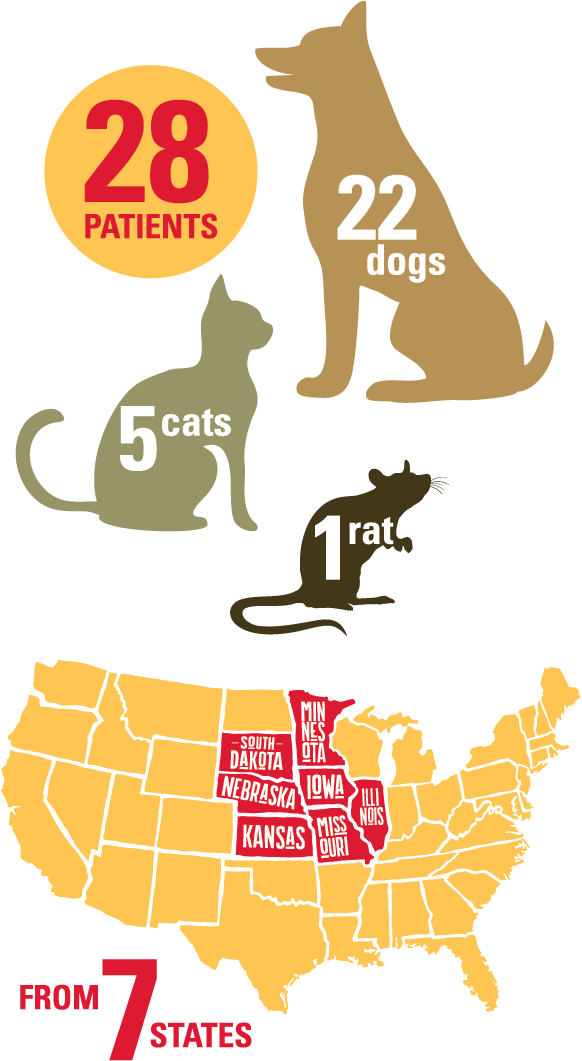 Radiation Oncology Update
Since mid-February, the ISU Radiation Oncology Service treated 28 patients (22 dogs, 5 cats, and 1 pet rat) from 7 states (Iowa, Nebraska, Minnesota, Illinois, Kansas, Missouri, South Dakota).
Tumors treated included: nasal carcinoma, mast cell tumors, soft-tissue and injection-site sarcomas, meningioma, chondrosarcoma, thyroid tumor, pituitary macroadenoma, hemangiosarcoma, salivary carcinoma and ear squamous cell carcinoma.
Therapy sessions per patient ranged from 1 to 20 (13 palliative or conventional and 15 stereotactic radiation.)
Radiation therapy is an option for tumors that may not be surgically resectable. For more information about ISU's radiation oncology service, please contact Dr. Chad Johannes or Dr. Meg Musser at (515) 294-4900.